First Presbyterian Evanston
First
Presbyterian
Evanston
SUNDAY WORSHIP
Join us Sunday mornings for online worship at 10 a.m.
An online FPCE membership class is now forming. Those seeking to become new members of First Pres will attend a 
single
session on 
Saturday, July 11, from 9 a.m. to Noon
. Those interested in signing up or seeking further details should contact Janice Dobschuetz at 
jdobschuetz@firstpresevanston.org
.
As our nation wrestles with the issues of race, social justice and economic equity, we at FPCE are invited, together as one church, to read the book 
Beyond Color Blind: Redeeming our Ethnic Journey 
by Sarah Shin. We've purchased your household a book so we can continue to engage together.
If  were not able to pick up your book in person this past week, no worries. Please contact, Janice at
jdobschuetz@firstpresevanston.org
 to make other arrangements (either by mail or delivery).
We'll gather together on Zoom on Wednesday, July 29, at 7 pm, for a virtual All-Church Townhall on the book's many timely themes.
As mentioned in
this week's eNewsletter feature story
, we will be moving to a new only worship platform on Sunday, July 12. The new platform is called the Church Online Platform. You can learn more about it
here
. Our goal is to make it easier for us as a church to worship together instead of in three separate online settings as we currently are. This will also improve our direct communication with the congregation and give us one place to invite all new visitors to attend. 


Need help? Here's who to call or email.

Contact FPCE Parish Nurse Julie Ruchniewicz at
jruchniewicz@firstpresevanston.org
if you have a need or would like to be contacted by her team.
———-
———-
FPCE Pastoral Care ministries

Click here to learn more
about our Pastoral Care ministries of First Friends, Stephen Ministry and The Counseling Center of Evanston.
10 a.m. Sunday Worship – June 28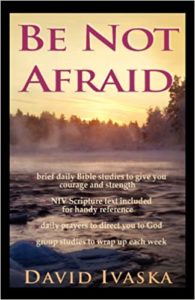 "Be Not Afraid"
Our online fellowship time/adult education takes place on Zoom following our Sunday service. This will lead into our adult education time, when we will continue our look at God's assuring words of "Be Not Afraid" from scripture. David Ivaska, author of the book "Be Not Afraid" from InterVarsity Press, leads our studies.

First Presbyterian Church Evanston
1427 Chicago Avenue
Evanston, IL 60201
847-864-1472