First Presbyterian Evanston
First
Presbyterian
Evanston
SUNDAY WORSHIP
Join us here for online worship each Sunday at 10 a.m.
Fellowship time will follow immediately after.
Come here Sunday morning for links and bulletins.

Bless Our Local Health Care Workers
Tie a 

blue ribbon

 on your tree 

Donate Blood:

Give

 a meal to a health care worker

Make and donate masks (drop off at rear door of FPCE on Saturdays between 9:30-11:30 a.m.).

Write and send cards or letters to our most isolated congregation members (Contact Caryl Weinberg for details).
Bless Our Local Partners serving Evanston and Chicago
Donate food and non edibles to 

Connections for the Homeless

.

Organize your friends or small group to cook/deliver a meal to Good News Partners' 

New Life Shelter

.

We are providing meals on Monday nights. (Contact 

Caryl Weinberg

 

for details)

Donate individually packaged desserts to Souper Saturday. Ex: individual packages of cookies; individual fruit cocktail cups; individual applesauce cups 

(Contact 

Caryl Weinberg

 

for details).

Donation date is Saturday, May 30 9:30-11:30.  
Drive through the church parking lot and drop things off!
Bless Our Global Partners
Encourage a mission partner through email/prayer

Find a partner and contact information 

here

Resources

Need help? Here's who to call or email.

Contact FPCE Parish Nurse Julie Ruchniewicz at
jruchniewicz@firstpresevanston.org
if you have a need or would like to be contacted by her team.
———-
———-
FPCE Pastoral Care ministries

Click here to learn more
about our Pastoral Care ministries of First Friends, Stephen Ministry and The Counseling Center of Evanston.
10 a.m. Sunday Worship – May 17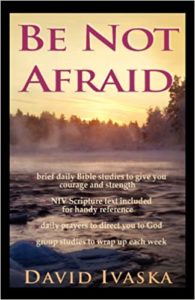 "Be Not Afraid"
Our online fellowship time/adult education takes place on Zoom following our Sunday service. This will lead into our adult education time, when we will continue our look at God's assuring words of "Be Not Afraid" from scripture. David Ivaska, author of the book "Be Not Afraid" from InterVarsity Press, leads our studies.

First Presbyterian Church Evanston
1427 Chicago Avenue
Evanston, IL 60201
847-864-1472