We love to know you are considering attending one of our Sunday services or special events!
Here is where to find the answers to most of your questions.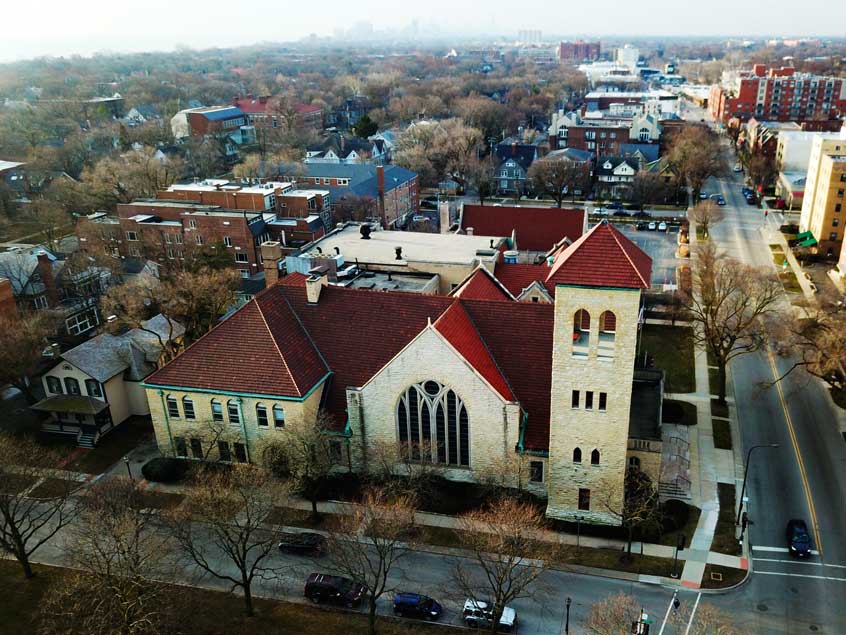 First Pres is located in Evanston, IL,
at 1427 Chicago Avenue.
We can be reached by phone at 847/864-1472 during regular business hours (9 a.m. to 5 p.m., Monday through Friday), and on Sunday mornings from 9 a.m. to Noon.
---
FAQs
What time are your services?:
Our Sunday morning worship takes place at 9:30 a.m. in our Sanctuary, followed by a brief fellowship time and then our adult education classes.
Is parking available?:
We have a modest-sized parking lot which fits approximately 50 vehicles. Once it is full, there is street parking in the neighborhood around us. Be sure to obey parking restrictions in the area. Evanston is noted for its "efficient" parking enforcement.
How close are you to public transportation?:
Extremely close! We are a two-block walk from the CTA Purple Line's Dempster stop, and area buses will take you to within a block of our doorstep.
How long are your Sunday worship services?
We start at 9:30 a.m. and are usually finished by 10:45 a.m. These times can vary, though we almost never go beyond 11 a.m. (which is when our Christian education classes begin).
What kind of worship is there?
Our services have a "blended" feel, where traditional liturgy and choral hymns are interspersed with contemporary songs performed by a variety of instrumentalists and singers in our praise band. Every Sunday is a little bit different, with a unique mix of tunes selected to support the message being taught and the scripture being read.
Are people expected to give?
We take an offering every Sunday morning, though we leave it up to you to listen to God and decide what he is directing you to do. We believe the church is meant to be supported by those who attend and take part in its life. Note: During COVID, we have been encouraging attendees to give online or make their Sunday donations as they leave the service, depositing them in collection plates with our ushers near the doors.
What should I wear?
When you visit us on Sundays, you will see some folks in their "Sunday best" and many others in business casual attire.
COVID-19 Protocols
for Sunday mornings
Masks are not required in the First Pres building EXCEPT for those visitors over the age of 2 who are NOT fully vaccinated. Those who are not fully vaccinated are required to wear face masks over their nose, mouth and chin (we do not check vaccination records, but trust our guests to be on the honor system). Those who are vaccinated may choose whether or not to wear a face mask. If you are not feeling well, please worship from home.
Paper Bulletins will be available.
There will be childcare and Children in Worship.  Masks are required for children 2 and over.
Gatherings in Roy Hall and Deacons Fellowship Hour (including "Lemonade on the Lawn") will be permitted with communal food and drink. However, food should either be placed in individual cups or served with utensils (no hands or fingers).  Direct touching should be kept to an absolute minimum.
Childcare and Children's Worship details
Here are details about how your family is invited to worship with us on Sunday mornings.
Join us in-person in the sanctuary. All age children are welcome in worship! We have rocking chairs in the back of the sanctuary and even more open space in the back for coloring, reading, or crawling. We also have a newly renovated family lounge area for nursing, changing diapers, or having some quiet time.
Kids Corner. We have set-up a special area in the back of the sanctuary with books, coloring and activity pages, worship journals, and other activities to help kids engage in worship.
Children's Worship. Children's Worship is offered for 4 to 6 year olds. Children are invited to go to the Choir Room (across the hall from the northeast Sanctuary doors) after the Children's Message for a scripture reading and brief activity, and will return to the Sanctuary after the sermon.
Nursery We will offer childcare for Infant through 2 year olds in the Nursery. Childcare will be starting at 9:15. Registration required.