Our guest preacher this Sunday will be Rev. Bob Hecker. A longtime member at First Pres, Bob identifies himself as a cradle Presbyterian. In 1986 Bob and his wife Gayle came newly married to FPCE. Soon after becoming a member here, Bob gave his life to Christ. In 1989 Bob joined our Stephen Ministry. Over time he felt called to build on his Stephen Ministry experience which led him to enroll at McCormick Seminary in 1999. In 2003 Bob joined our church staff as Director of Pastoral Care serving here for 2½ years. He then moved on to 7 years of ministry as a hospital and hospice chaplain. Now in retirement, Bob continues to serve at First Pres as a small group leader and in prayer ministries. He and Gayle live in Evanston's Westminster Place where he is active in the spiritual life of their retirement community. Bob also currently serves as our FPCE staff chaplain.
Did you know that the First Pres Sanctuary houses the famous Edgar Miller's handcrafted art and design work?  First Pres is part of the Edgar Miller Legacy Site Tour that takes place on June 26 from 12:30 pm to 5 pm. If you are interested in learning more, please go here or visit the Connect page on our website.
Our next book club will meet on Tuesday June 25, 1:30-3 pm in Room 102. We will be reading Becoming Mrs. Lewis by Patti Callahan Henry. According to Goodreads: " A love story between CS Lewis and his wife, Helen Joy Davidman Gresham, was improbable and seemingly impossible. Their Eros-story lead to some of Lewis's greatest works, yet Joy is more commonly known for how she died. Becoming Mrs. Lewis allows us to see how this brilliant and passionate woman lived and why she stole Jack's heart."
We are in the midst of planning another exciting Family Camp for this summer! You all and your families are invited to join us for a fun weekend of star-gazing, swimming, archery, ropes courses, canoeing, worship, arts and crafts, smores by the campfire and more!
This year Family Camp will be Friday evening, July 5 – Sunday afternoon, July 7 at Camp Stronghold in Oregon, Illinois.
Registration cost covers all camp activities, six meals, and either tent camping or a room in the lodge.
Cost
Tent Camping: Adults $70 per person, 1st child $55, additional children $40 each
Lodge: Adults $150 per person, 1st child $100, additional children $75 each
Registration Details
Step 1: Email Rev. Henry Coates at hcoates@firstpresevanston.org to let him know your family is planning on going!
Step 2: Follow the link here to register your family through Camp Stronghold's website. Alternatively, reach out to me for a paper registration form.
Step 3: Mark your calendars and get excited for a fun weekend with your church family!
Sunday Mornings – Summer Schedule
Time: 10 a.m. Worship
Location: Sanctuary
Wednesday Prayer
Our next Wednesday Prayer Gathering will be held at 7 pm, June 26, in the Parlor. We will be continuing a study we have begun on the prayers of the bible. All are invited to join us as we bring our praise, concerns, and hearts before our awesome God!
Flat Jesus Project
 CLICK HERE to learn all about our Summer 2019 Flat Jesus Project!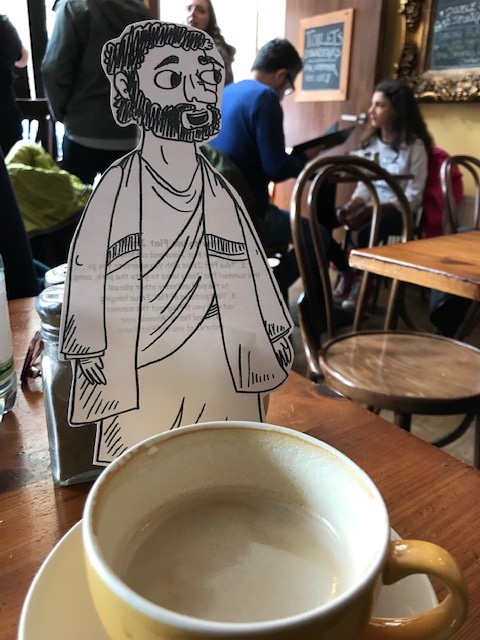 Wedding dresses and suitcase needed: Dr. Dorcas Dah, our missionary partner from Burkina Faso, in western Africa, is looking for used or new wedding dresses to take with her back to House of Hope in Burkina Faso. House of Hope is a non-profit founded by Dr. Dah which provides Christian discipleship to women in need. The dresses will be given to House of Hope women planning to get married. Dr. Dah is also in need of a large suitcase to help transport these dresses. If you would like to donate a dress or suitcase to Dr. Dah, please contact her at dorcasdah@gmail.com. She is here through July 9.
For we are his workmanship, created in Christ Jesus unto good works, which God hath before ordained that we should walk in them. – Ephesians 2:10
Might you consider becoming a Stephen Minister? This three-year commitment may include shepherding one or several individuals who are going through a rough patch or any of life's transitions. There is training on listening and responding to people who request a Stephen Minister; a class is scheduled for fall. There is also opportunity to deepen your own personal faith as you walk along side each person who receives your care. Interested? Call RuthAnn Ostrowski at 312-613-0644.
FPCE member Verna Todd spent a year photographing the strength and beauty that God reveals in a single amaryllis. This exhibit is on display through June 30 at Perspective Gallery, 1310 Chicago Ave., just a block south of the church. Verna will be speaking about the work at the gallery on June 20 at 7 pm.  Regular gallery hours are Noon to 6 pm Thursdays through Saturdays, and Noon to 5 pm Sundays. All proceeds will go to our FPCE sister church in Bethlehem, Palestine.
The annual Pray4Peace Evanston gathering will be held Saturday, June 15, along Dodge Avenue. Held each year since 2016, this event brings folks from different Evanston houses of worship together to glorify God, pray against violence in our community, express our appreciation for our first responders, and show solidarity with those who have lost loved ones to violence in the past. For information, contact Sister Tina Penick from Faith Temple Church of God in Christ at pray4peace2016@gmail.com. If you are interested in coordinating FPCE's participation this year, contact Pastor Hylton.
Here is where we CONNECT!
Welcome to the FPCE Connect Page. This is your "landing area" for all of the latest of greatest information about FPCE. This page is updated regularly, so stop by to keep up to date. Thanks!