Gather with us for an all-church cookout on Sunday, July 21, at 4 pm in Dawes Park alongside the Lake. Fun for all ages, and our First Friends guests will be joining us! Please bring a salad, a dessert, or family-friendly beverage to share. There will be a brief vespers service at 4:30 pm and food will be served at 5 pm. If you have a grill you can share to use, please contact Pastor Henry at hcoates@firstpresevanston.org.
Join us for movie night in the dining room for a screening of Palestinian films made by students of our partner, Dar al Kalima University of the Arts and Culture. The screening will take place August 7, at 7 pm, in the Dining Room. A brief discussion time will follow afterward. Popcorn and lemonade will be served! Note that these films are reflective of the current lives of young Palestinians, so the content might not be appropriate for all ages. Contact Caryl Weinberg at cweinberg@firstpresevanston.org with questions.
Registration for FPCE's Vacation Bible School is now open! This year's session will be held August 5 through 9, 9-11:45 am. For details and to register, click here.
Support this year's Vacation Bible School by donating supplies. We are in need of: six-pack soda plastic ring holders (intact), old blankets or sheets in dark colors (these will not be returned). We would also like to borrow any pop-up canopy tents (please label them with your name so we can return them).
The Deacons' Clothes Closet will be closed for cleaning in August! It will open again Saturday, September 7, ready for more donations!
The FPCE Deacons offer their thanks for the quick and generous response to our annual Back-to-School Backpacks program. All students' names & lists have been taken! Those who have taken children's names should remember to get all supplies back to the church office by Sunday, July 28. They should be sealed shut in a bag or box with the child's name and number written on it. There's no need to buy backpacks, as Evanston's Ice House Gallery has once again stepped up and provided them all. We offer a special thanks to them, and, again, to all those who signed up to take part in spreading hope and joy to the backpack recipients.
Sunday Mornings – Summer Schedule
Time: 10 a.m. Worship
Location: Sanctuary
Wednesday Prayer
Our next Wednesday Prayer Gathering will be held at 7 pm, July 24, in the Parlor.  All are invited to join us as we bring our praise, concerns, and hearts before our awesome God!
Flat Jesus Project
 CLICK HERE to learn all about our Summer 2019 Flat Jesus Project!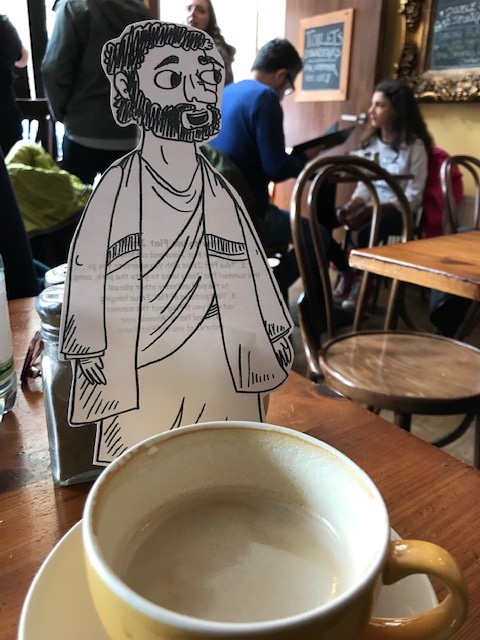 Book Club will meet on Tuesday, August 6, from 1:30-3 pm in Room 102.  We will be reading The Secrets Between Us by Thrity Umrigar.  Goodreads offers the following thoughts:  Bhima, the unforgettable main character of Thrity Umrigar's beloved national bestseller The Space Between Us, returns in this triumphant sequel—a poignant and compelling novel in which the former servant struggles against the circumstances of class and misfortune to forge a new path for herself and her granddaughter in modern India. All are welcome to attend!
Here is where we CONNECT!
Welcome to the FPCE Connect Page. This is your "landing area" for all of the latest of greatest information about FPCE. This page is updated regularly, so stop by to keep up to date. Thanks!