FPCE Small Groups
Our vision is for all small groups to be microcosms of the church, where all members are growing into mature disciples of Jesus Christ.
At First Presbyterian Church of Evanston we offer a variety of small groups on different days and times catering to young adults, young families, singles, women, men, older adults and mixed groups.  A small group is a place to connect with other members, grow in discipleship and accountability, learn more about the Bible, and grapple with difficult faith questions.
If you don't find a group you are interested in, we can train you to start and lead one yourself!
Questions? Ask our team: Dan Shiau, Karen Shaw & Katy Ingle or email Janice Dobschuetz at jdobschuetz@firstpresevanston.org.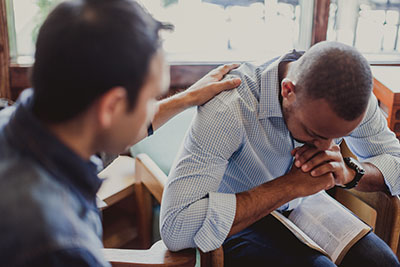 Here are our current small groups looking for new participants:
Young Adults (20's/30's)
WHO: A group of folks in their 20s and 30s who share meals, talk about God, and enjoy each other's company.
WHEN: 3rd Sunday of month, 4-6 p.m.
CONTACT: Dan Shiau
Intergenerational
WHO: Singles and couples of various ages who meet in our homes to study & support one another, with an emphasis on fellowship, Bible study and prayer.
WHEN: Sunday 6:30–8:30 p.m., 2x/month
CONTACT: Laurie Oh
Young Families
WHO: A group of young families with kids who meet for Bible Study and then a family meal at the church. Childcare is provided!
WHEN: Sunday, 4–6:30 p.m., 1x/month
CONTACT: Rev. Amanda Golbek
Singles
WHO: Singles Together in Christ (STiC!) – We are a diverse group that welcomes adults who are single at any stage of life. This is an opportunity to connect with other singles as we grow in our faith.
WHEN: Fridays, 7–8:30 p.m., 2x/month via Zoom
CONTACT: Karen Shaw
Women's
WHO: Nourish – A group of women who meet at the church for friendship and support, also coffee and snacks. Childcare is provided for free.
WHEN: Thursdays, 9:30–11 a.m.
CONTACT: Sally Ivaska
WHO: A group of women who meet for Bible Study at the church.
WHEN: Thursdays, 5:45–7 p.m.
CONTACT: Jennifer Randolph
WHO: Women of all ages (mostly older) who meet to study the Bible and discuss Christian books, share and pray together. We also have dinners & outings.
WHEN: 2nd & 4th Wednesdays of the month, 7:30-9:30 p.m.
CONTACT: Bev Bolsen
Men's
WHO: The Grumpy Old Men are a group of older guys seventy and up who get together on Wednesday mornings to read and study scripture in a spirit of friendly, purposeful discussion.
WHEN: Wednesdays, 8–9:30 a.m.
CONTACT: LeRoy Klemt
WHO: Men's Breakfast is a group that gathers simultaneously in-person and on Zoom to socialize, pray and study scripture. Those attending in-person enjoy a breakfast of coffee, tea, donuts and bananas.
WHEN: Saturdays, 8–9 a.m.
CONTACT: Bob Bastian
Older Adults
WHO: A group of middle aged to older people, diverse in Bible literacy, who meet weekly in each others' homes (but sometimes via Zoom) to study & discuss the Bible, share, and pray together.
WHEN: Tuesdays, 7–9 p.m.
CONTACT: Mike Campbell
Serious Bible Study
WHO: We are a group seeking to study the Bible in depth and purchase and read a commentary in addition to the scripture we are studying. Study guides are handed out in advance, and preparation is required. The primary intent of this group is to increase our faith through Bible study.
WHEN: Bi-weekly on Monday afternoons, 3–4:30 p.m.
CONTACT: Maria Ferry
Knitting Ministry
WHO: A group who makes prayer shawls to distribute to the bereaved, shut-ins and hospitalized. We also raise funds for schools in the Congo as well as make scarves and hats for those who come to the warming center. Join us to eat, knit, laugh & pray! Room 206 at the church.
WHEN: 1st Friday & 3rd Saturday, 12-2 p.m.
CONTACT: Susan Potterton
---
To get plugged into one of these groups, contact:
Rev. Dr. Raymond Hylton
Senior Pastor