FPCE Small Groups
Our vision is for all small groups to be microcosms of the church, where all members are growing into mature disciples of Jesus Christ.
At First Presbyterian Church of Evanston we offer a variety of small groups on different days and times catering to young adults, young families, singles, women, men, older adults and mixed groups.  A small group is a place to connect with other members, grow in discipleship and accountability, learn more about the Bible, and grapple with difficult faith questions.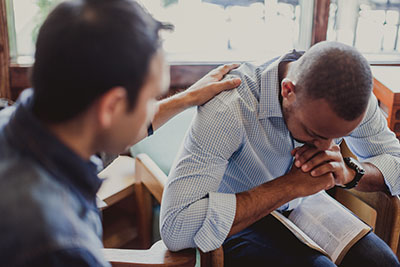 Here are our current small groups looking for new participants:
Serious Bible Study
WHO:  We are a group of individuals seeking to study the Bible in depth.  We all purchase and read a commentary in addition to the particular scripture we are studying.  Study guides are handed out in advance, and preparation is required.  While there are aspects of sharing and friendship that take place, the primary intent of this group is to increase our faith through studying the truths of the Bible.
WHEN: Bi-weekly on Monday afternoons, 3:00 – 4:30 p.m.
Intergenerational
WHO: We are a long-standing group with an emphasis on Bible study and prayer, diverse with respect to age, marital status & Christian maturity.
WHEN: Sunday 6:00–8:30 p.m., 2x/month
Diverse
WHO:  We are a new group, diverse in age, marital status and Christian maturity, with an emphasis on Bible study and prayer.
WHEN:  Tuesday 7-8:30 p.m. 2x/month
Young Adults
WHO: A group of folks in their 20s and 30s who share meals, talk about God, and enjoy each other's company.
WHEN: 3rd Sunday of month, 6:30 pm
Young Families
WHO: A group of young families with kids who meet for Bible Study and then a family meal at the church. Childcare is provided!
WHEN: Sunday, 4–6:30 p.m., 1x/month
Singles
WHO: Singles Together in Christ – We are a diverse group that welcomes adults who are single at any stage of life. This is an opportunity to connect with other singles as we grow in our faith.
WHEN: Fridays, 7-8:30 p.m., 2x/month (on Zoom)
Women's
WHO: A group of women who meet for Bible Study at the church.
WHEN: Thursdays, 5:45–7:00 p.m.
WHO: Nourish – A group of women who meet at the church for friendship and support. Childcare is provided for free.
WHEN: Thursdays, 9:30-11 a.m.
Men's
WHO: The Grumpy Old Men are a group of older guys seventy and up who get together on Wednesday mornings to read and study scripture in a spirit of friendly, purposeful discussion.
WHEN: Wednesdays, 8–9:30 a.m.
WHO: Men's Breakfast meets Saturday mornings at 8 a.m. in person in Room 213 as well as on Zoom. You can bring your own food. Coffee is available. To receive the weekly Zoom link, email Bob Bastian.
WHEN: Saturdays, 8–9 a.m.
Older Adults
WHO: We are a group of couples and singles in their 60's and 70's who meet twice a month in our homes for Bible Study.
WHEN: 1st & 3rd Wednesdays, 7:30–9:30 p.m.
---
To get plugged into one of these groups, contact:
Rev. Dr. Raymond Hylton
Senior Pastor