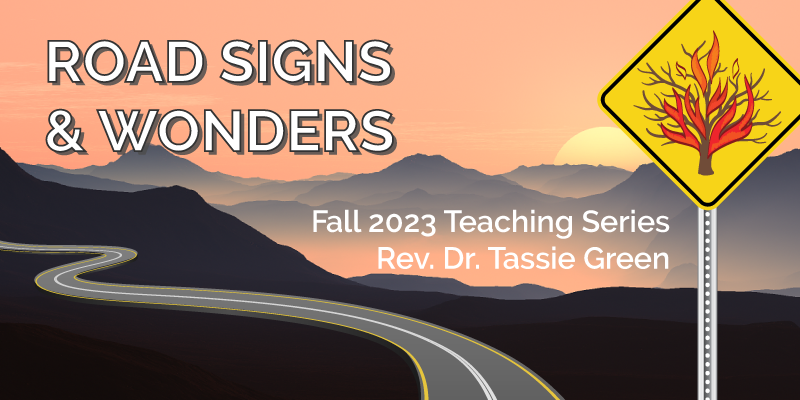 Fall 2023 Teaching Series: Road Signs & Wonders
A note on the series from Interim Senior Pastor Rev. Dr. Tassie Green
Friends, I have been praying over what series to preach this fall. I am choosing Exodus because these are awesome stories of our awesome God at work. The lectionary pushes us to immerse ourselves in these stories every 3 years– so why would we pass up this opportunity to travel along with the Hebrews? It's a great match for a transition time in a church, helping us to build our trust & faith in our big God who acts in big ways.
This fall we'll focus on what we'll call "Road Signs & Wonders" with the following goals in mind:
To meet anew the God who guides us on our journey, who is present with us in our hard places,
and who leads us and our community of faith in a good future made for us.
We'll look closely at how the Exodus Scriptures function as road signs, revealing to us:
Who is God?
What are God's ways?
How can we follow God?
We'll see that a transition time is a good place to encounter God. Our good God wants to lead us and God promises to help us. God doesn't always (or even usually) lead how or where we expect God to lead.  When God leads us, we begin to see God where we least expect.
Sermon Series information
(Note: Details may change as we move forward week to week.)
Date

Scripture

 Sermon Title
/Link to Sunday Service page
August 13
Exodus 3:1-8, 11-14,
Hebrews 11:23-29
"What's Your Favorite Flavor?"
August 20
Genesis 50:24,
Exodus 1:6-22, 2:1-10
"Dangerous Curve Ahead"
August 27
Exodus 3:7-17
"Spark"
September 3
Hebrews 3:1-8,
Exodus 5:1-23, 6:1-9
(Selected verses)
September 10
Exodus 13: 17-22,
OR Numbers 4:11-19,
James 1:1-8, 16-17
September 17
Exodus 12: 1-14. 25-27,
I Peter 3:17-22
September 24
Exodus 14:21-31,
Exodus 15:1b-11, 20-21
October 1
Hebrews 3:7-19
Exodus 16:2-15
October 8
Numbers 20:1-13
October 15
Exodus 25:1-9, 29:38-46, Hebrews 9:1-15
October 22
Deuteronomy 5:1-21,
1 John 1:7-2:6
October 29
Deuteronomy 4:32-39
OR Deuteronomy 6: 1-19,
OR Deuteronomy 8:1-11
The ACTS Prayer Model
We believe regular time in prayer with God is essential to our growth in relationship with him and others. Here is an easy-to-remember prayer model you can use to begin the process of regular prayer with God.
A – Adoration: We bring glory and praise to God, acknowledging his greatness in each of his three persons; Father, Son, and Holy Spirit.
C – Confession: Acknowledging where we have failed in walking in the ways we are called, we confess our sins, trusting completely in his desire to forgive them, and in the completeness of that forgiveness through the righteousness of Jesus Christ.
T – Thanksgiving: We recall God's specific goodness to us as individuals, as members of families, groups, and institutions, and as part of the local and universal body of Christ. We give thanks for the provision we have received and for the blessing of God's presence in our lives.
S – Supplication: Knowing that God loves us, we bring our cares and concerns, desires, dreams, and needs, as well of those we know, love, work with, and are part of community with. We pray for our leaders at all levels of responsibility, from small group leaders to heads of state.
We also suggest adding the final step:
L – Listening: Be quiet and set your mind to listening to the Lord. Have a paper and pencil ready to write down whatever and whomever comes to mind, praying for them and asking God for wisdom about why these thoughts have come to mind.