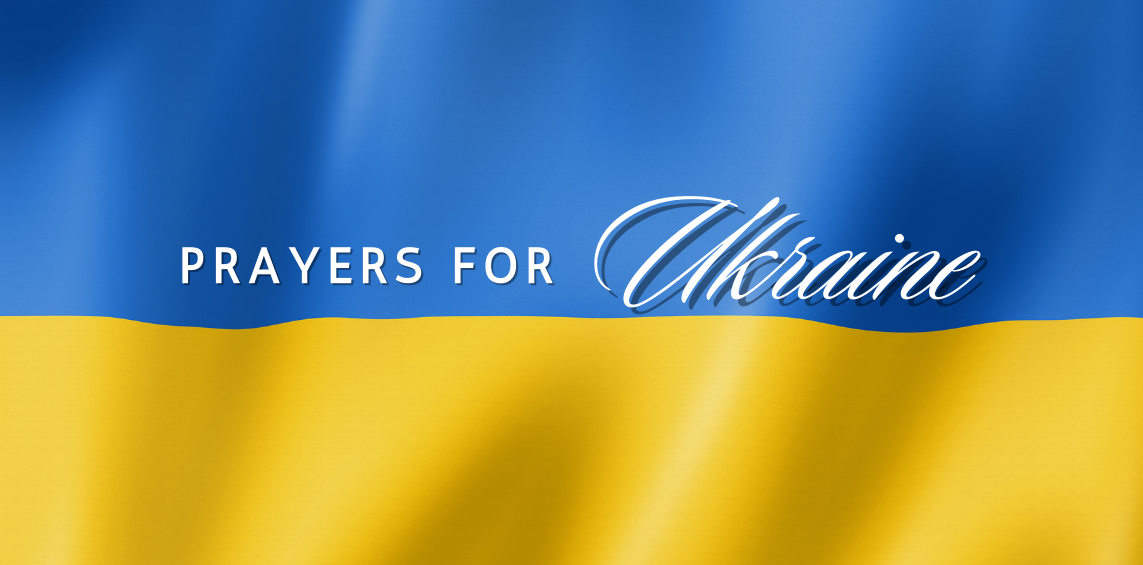 We turn our prayers again this week to Ukraine and the continuing struggle of the Ukrainian people during the war.  Pray for the Ukrainian citizens that are under Russian occupation with severely limited choices.  Leaving can bring intense hostility and violence at city checkpoints but remaining in the city includes a strong possibility of being terrorized by Russian forces looking for pro-Ukraine supporters.  People with dissenting voices about the Russian occupation are being aggressively suppressed in all the ways one could fear.  Pray for the elderly or handicapped residents who have had no way to leave the city and are dependent on others care and support to survive.  Pray for the hospitals and the increasingly dwindling medical supplies.  Medical supplies, gasoline, and goods are not available and as the weeks pass, the lack of these items is being felt more and more by those left in the cities.  Pray for the faith leaders who are working tirelessly inside and outside of the occupied areas to help support and sustain those in need spiritually and physically.  Pray for those on the front lines of battle with poor weather conditions, limited food, and few items to defend with.  Pray that God will provide supernatural strength and courage as they continue fighting for their freedom.
And yet, we Hope!  This upcoming week is Holy Week for the church in Ukraine.  "Easter to me is peace in my heart.  We are ready to see the worst, but we hope for better" This was spoken by a Tavriski Christian Institute (TCI) staff member, and it reflects the sentiments heard repeatedly by the staff at TCI.  May God infuse them with the hope that comes from Christ's death and resurrection.  Read  Pastor Valentin's full Easter reflection HERE.  Pastor Valentin is President of TCI.
Pray for Ukraine, But How?
Pray for the hears of leaders and politicians.
Pray for those who mourn, for the widows and the orphans, and all who are wounded spiritually.
Pray for the church in Ukraine.
Pray that God's Kingdom would come.
"Before we pray for Ukraine, I highly recommend that we're silent before the Lord for a few minutes, asking God to reveal to us how to pray and what to pray for." – Attila Nyári
 Adapted from "Pray for Ukraine, But How?" 
Pray this week for Dan McNerney and his ministry with Frontier Fellowship.  During his time at Frontier Fellowship, Dan has fostered many friendships with people from Ukraine and asks for prayer for them specifically.  Pray for a woman named Oxsana whose family are practicing Orthodox Christianity and currently huddled in a farmhouse in hoping the Russians won't find and harm them.  Pray for the Roma people who are despised and marginalized by the former Soviet Union and are currently very vulnerable to Russian aggression.  Pray for the Ukrainian people, who had been working towards becoming a more equitable, freedom-loving country, appreciating their Christian heritage. Pray that their desire for Christian growth and understanding will deepen even more during these challenging days.  Finally, during this Lenten season, pray that God will continually remind all of us around the globe that having God in our lives and giving control of our lives to Him is all we need.
Pray this week for Taras Dyatlik, a former  Langham Scholar who is currently supporting a network of Ukrainian Seminaries.  The many ministries in Ukraine have identified three key stages of need that we can pray for in the coming months. First, pray for the continued work of evacuating and relocating students and families during this turmoil.  The second stage to pray for is finding more stabilized, longer-term accommodations. So many Ukrainians have been permanently displaced now that their homes, apartments, schools have been destroyed. With no stable place for these refugees to live at this time, pray that Taras and those he leads can quickly create more solid plans for how to help displaced families during this crisis.  Finally, let's pray now for the end of this war and pray for the rebuilding of many seminaries and churches. Depending on the length of this conflict, many of these ministries may take years to get back to the place they were at only 3 weeks ago.  May God's hand be evident in the restoration of the work.   Personal prayer requests from Taras are for safety for his wife and the many other wives who refuse to be evacuated because their husbands stayed behind.  Pray for all of their continued safety. Taras also asked for prayer that God uses this time to shake the conscience of humanity and the theology of the church.  Pray that the church no longer elevates nationalism which requires others to be brought so low. Pray that God works to remove these negative concepts from those who are in the church.
From Langham Partnership:
Conversation with a Pastor in Ukraine
Langham partners with and serves Ukrainian seminaries, churches, and pastors. Last night, we recorded a conversation with one of these pastors in Ukraine. He provides a street-level perspective of the situation the church is facing there.
After months, if not years, of build-up, Russia has invaded Ukraine on the pretext of supporting Russian-speakers who want their support. As the largest military action on European soil since the end of the Second World War, this is an event of monumental proportions. But the Lord has warned us that there will always be wars and rumors of wars. Please pray:
(a) for a limitation of casualties of all sorts, but especially of civilians;

(b) for a de-escalation of hostilities, the nurture of genuine peace and a deep wisdom from leaders on all sides;

(c) for justice and truth to be hallmarks of the post-invasion peace; and, in the midst of it all,

(d) for our brothers and sisters to find ways to serve others and bring Christ into even the darkest circumstances.
Here are some powerful prayer needs sent to us by, Langham Partnership*, one of the mission organizations that we support.  These are prayers of pastors throughout Ukraine.  Names and locations are hidden to protect privacy.  We will attempt to update prayers as we get them.
Church Leader 1:
As we expected, Russia attacked Ukraine tonight.  Russian Missiles are destroying our air defenses, airfields, airports, military units, and army command posts.  Civilians are also dying.  Three such strikes were inflicted on the [location omitted].  I live close to the airport and [location omitted], so there is a need for special protection from the Lord for my family.
Church Leader 2: 
Thank you for your prayers and support.  Before we were planning to go to western Ukraine, but not all Ukraine is under attack, airports are closed and also under attack.  So, for now we stay at home in [location omitted] with our family and the church.
Church Leader 3:
At the moment, [location omitted] is safe, we heard blasts from afar. A number of military bases and objects were attacked. Thank God, all the employees and remaining students are safe. Some employees are preparing for evacuation. I am taking measures to assure that everyone is safe and have everything to survive. For the next month we relocate all the educational sessions to the online format. Please keep us in your prayers. We do need them. Trust the Lord and keep walking His way.
Church Leader 4: 
My prayer today is that the church of Ukraine (and Russia) would use missiology and the mission of God as the primary hermeneutic tool to interpret society and politics and other social-political challenges. And that we as the children of God would not devalue, depersonalize, and dehumanize each other in the context of hybrid and political and informational wars as the disciples of Jesus. The love of the Cross is practiced not in a peaceful neighborhood, but in the context of the challenges and temptations and brokenness. It is where the power of the Holy Spirit for spreading the Good News and the relationships of the love and trust and care of the Kingdom of God is needed by Ukrainian Christians (and the Russian as well)."
Church Leader 5: 
I am sincerely grateful to you and other friends at Langham for your care and prayers during this turbulent time.
In fact, in recent years, especially in 2014-2015, we have been expecting invasions from Russia a few times. However, this situation is much more threatening, given the size of troops on our borders and the level of anxiety in the capitals of the world's leading countries. It is difficult to say what awaits us. Nobody knows for sure how far Russia will go, whether it will dare to occupy part of the country, whether there will be rocket attacks on our cities or whether Russia will try to capture Kyiv. Its goal is not just to conquer part of Ukraine, but to control the whole country, to establish a puppet government here that will be entirely under Moscow's control. These circumstances create an atmosphere of tension, fear, and uncertainty.
*Langham Partnership works extensively in Ukraine and has a vast number of close relationships there. We serve Ukrainian schools, churches, scholars, authors, and pastors—some of whom have reached out to us with specific prayer requests. We share these with you—confidentially—while also protecting the anonymity of the sources.