Join us this fall!
On September 12, we kick off our Fall 2021 at First Pres with a variety of events and classes.
OUR WORSHIP SERVICES WILL TAKE PLACE AT 9:30 A.M. IN OUR SANCTUARY.
Our Teaching Series:
2 Corinthians: Encouragement for a Grace-Filled Church
Sunday Christian Education – Sundays at 11 a.m.:
Adult Education classes:
Missions is offering a class on racial injustice seen through the lens of Jesus and teachings of our faith. Class sessions will take place on Sunday mornings at 11 a.m. in room 213 and some Wednesday evenings at 7 p.m. on Zoom. See below or learn more here.
Children's Education:
What do a sheep, an eagle, a lion, and a raven have in common???*
Infants through 3 year olds are invited to check out the Nursery. They can meet their teachers and get comfortable in the space! Each week they will have a Bible story and project during the education hour.
4 year olds through 5th graders are invited to join us in the Dining Room. We will have a special time together where we will sing, get to know each other, explore a Bible scripture.
*They're all animals mentioned in the Bible AND  they are all names of our Sunday School groups!
Youth Education:
6th and 7th graders are invited to gather in the 3rd floor Youth Lounge for Sunday school with Pastor Ray and Oakley Smith.
Confirmation Class: 8th and 9th graders are invited to gather in room 206 as we spend the year digging deep into our faith.
10th, 11th, and 12th graders are invited to help as a volunteer teacher with the Children's Sunday school or attend one of the Adult Education classes. Contact Pastor Amanda if you want to volunteer.
Youth and Kids groups will meet together on Sunday afternoons.
Small Groups!
We offer a wide range of Small Groups which are open for you to join. Learn more here!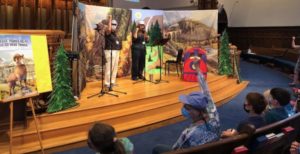 Prayer Gatherings take place online twice each month.
Other planning is underway for events like:
Trunk or Treat (our tailgate candy giveaway)
Our Advent Family Workshop
There's more to come, too. Keep an eye on our home page and events listings.