Sundays, November 27, December 4, 11, and 18, 2022
This four-week seminar will present an overview of the history of music in Christian worship, from the chanting of the pages of scripture, to the hymns of Isaac Watts, to the songs of Sandra McCracken. In this course we will trace the evolution of musical style and genre throughout the history of the church; explore how musicians, scholars, and clergy people have thought about music through the ages; and think critically about our reciprocal relationship with music, how the music we sing shapes us and our theology, and how we and the theology we espouse shape our music. Each meeting will begin with our singing Advent and Christmas music from the musical time periods we will be studying.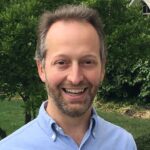 The class's instructor, Dr. Robert McConnell, has worked as a church musician for fifteen years and currently serves as organist at the Church of the Holy Spirit (Episcopal) in Lake Forest. He holds a Doctor of Musical Arts from Northwestern University.