First Presbyterian Church of Evanston Children's Ministry Mission Statement:
The Children's Ministry at FPCE is a Christ-centered ministry that partners with families, offering Biblically based and developmentally appropriate opportunities for children that help them grow in their relationship with God. (Revised 04/2019)
The FPCE Children's Ministry seeks to:
Nurture the faith of children and families.
By creating avenues of involvement in the life of the church.
By cultivating knowledge and understanding of the Bible.
By crafting fun activities and fellowship opportunities.
Equip children and families on the journey of faith.
By engaging them in worship.
By enabling them to serve God and community.
By empowering them to share their faith.
Provide a safe, welcoming space and experience.
By fostering intergenerational relationships.
By facilitating authentic and meaningful interactions with God.
By following safety procedures, policies and protocols.
Vacation Bible School registration is now open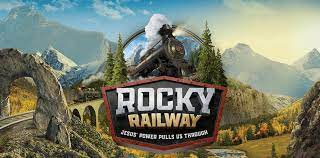 Kids (ages 4* through completed 5th grade) are invited to join us as we explore how Jesus' power will pull us through. Come along and join us on the Rocky Railway!
Parents or guardians, please register each of your own children by name and birth date.
*4 by September 1, 2021
Register here:
Monday, Aug 2 – Friday, Aug 6
Monday, Aug 2 (9:00 am – 12:00 pm)
Tuesday, Aug 3 (9:00 am – 12:00 pm)
Wednesday, Aug 4 (9:00 am – 12:00 pm)
Thursday, Aug 5 (9:00 am – 12:00 pm)
Friday, Aug 6 (9:00 am – 12:00 pm)