Advent 2020 at FPCE
"God Came Near"
In this time of isolation, anxiety, and grief, we worship a God who has been where we are and sacrificed what was necessary to be near to us!
Advent Worship Schedule
 All services are online at https://live.firstpresevanston.org.
DATE
DESCRIPTION
TIMES
Sunday, November 29
1st Sunday of Advent
"Desperate Prayers"
10 a.m. online
Sunday, December 6
2nd Sunday of Advent
"The God Who Comforts"
10 a.m. online
Sunday, December 13
3rd Sunday of Advent
"The God Who Cares"
10 a.m. online
Sunday, December 20
4th Sunday of Advent
"The God Who Knows"
10 a.m. online

Thursday,




December 24

Christmas Eve Services

4 p.m. – Pageant online




11 p.m. – Candlelight online

Sunday,
December 27
First Sunday of Christmas
10 a.m. online
Sunday,
January 3, 2020
Epiphany
10 a.m. online
Sunday Mornings after the Service
Advent Sunday Fellowship time on Zoom
Fellowship gathering on Zoom
Prayer Companions on Zoom
These Zoom links are shared at the end of the service in the chat window and the service notes.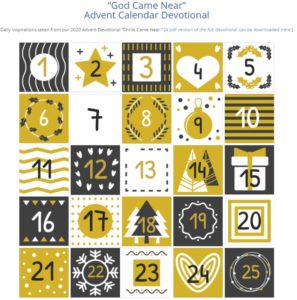 Check out our daily Advent Calendar Devotional, which draws items from our printed "Christ Came Near" guide for the season.
Our holiday projects and special offerings
Angel Tree
Each of the 101 Angel Tree children FPCE was given to provide presents for this year have been sponsored! Each of them will receive a present this year with a note from their incarcerated parent, expressing their love.
You can still give to the Angel Tree general fund, which helps with administrative costs and supports special Angel Tree events and programs. Visit https://secure.prisonfellowship.org/donate/AngelTree to give a one-time or monthly gift.
The Deacons thank those who participated, once again, for your generous response; you help shine Christ's Light in a season of darkness.
Special Offerings
These can be given through our giving portal or by check (Please note "Thanksgiving Offering" or "Christmas Offering" on the check memo). Checks should be sent to the church office at: First Presbyterian Church, 1427 Chicago Avenue, Evanston, IL 60201.
Our Thanksgiving special offering is going toward Christmas Lutheran Church and Bright Stars of Bethlehem (both are located in Bethlehem, Palestine).
Our Christmas offering is going toward our local refugee outreach, First Friends.