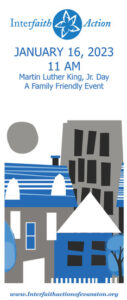 Interfaith Action 'Walk for Warmth'
January 16 | 11 a.m.
First United Methodist Church in Evanston (516 Church St., Evanston, IL)
For four years on the Martin Luther King Jr. Holiday/Day of Service, Interfaith Action of Evanston has hosted the "Walk for Warmth" supporting the overnight shelters, hospitality, and warming centers in Evanston (including First Presbyterian Evanston as a host of the Overnight Shelter). This year, it will be on January 16, beginning–and ending–at First United Methodist Church. The walk takes generally under one hour to complete. CLICK HERE to register for the walk and/or donate.