A First Pres Mission Partner Testimony
This week's eNewsletter Feature
was co-written by David Ivaska, FPCE missions prayer team leader,
and Caryl Weinberg, FPCE director of mission.
Dear friends,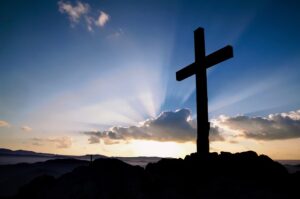 Recently, 30 members of our church family heard an awesome in-person report from our mission partner Jamil, the International Fellowship of Evangelical Students (IFES) Regional Secretary for university student and graduate work throughout the Middle East and North Africa (MENA).  Most amazing were the many reports Jamil gave us of how God comes alongside Christians, in the most trying situations, to provide the strength and resiliency needed to walk with Him. 
Jamil first highlighted his deep gratitude for our church's longstanding friendship, prayer, and financial support. That support has carried him and IFES through many challenges.  
Secondly, he outlined planned events for 2023 for mobilizing and equipping students and graduates to strengthen and expand their work.  (You can pick up that monthly events list at Fellowship Time in Roy Hall following this Sunday morning's worship service.)  
Thirdly, he asked prayer this week for his senior team (himself, Hussam from Jordan, Elie from Lebanon) as they travel to two "closed" countries in the Gulf region. There they will meet with church leaders to build trust and explore what doors God is opening for ministry in that region. 
And, fourth, in February and March the Regional Support Group (leaders from each of the 15 national movements) will come together to encourage each other, worship in praise and prayer, and to be enriched through Bible teaching. These two meetings are essential for these workers to know they do not stand alone! 
Jamil shared some powerful, moving testimonies from around the region:
In one North African country, churches are being closed by the government. So, the small staff team of four have spread out to various cities to gather student and graduates into small groups in tea shops or in homes to provide needed fellowship and discipleship.
In two war-torn countries in the Middle East,

IFES

General Secretaries (both women) have gone out of their way to provide comfort and counseling to

traumatized students

. In spite of

limited resources

, they gather groups of students for training.

 

One brother in a very sensitive country came to know the Lord

and, for that,

was immediately

ostracized by his family

. After

a rough time of living

on the street, God provided him a good job that enabled him to buy a large apartment. A few of his close friends also became followers of Jesus

,

and he invited them into his flat after they

,

too

,

were put out by their familie

s. A member

of Jamil's

regional

team meets on

Z

oom with this group

every other week

to disciple them

. With great joy

,

th

is group of new disciples

were able to attend the recent regional student conference in Egypt. 

 
Jamil ended his presentation with an especially powerful testimony from the most devastated country in the Gulf. There, one very creative and courageous professor, quietly but regularly, has been meeting with small groups of believers in groups of three. Outside the country, Jamil and his senior team have hosted four different training events for these young believers. Travel to these events is arduous and often life-threatening, but the training is foundational for them to become affiliated with the IFES and that training is ongoing. They hope to be welcomed into IFES fellowship at the World Assembly in Indonesia in August. 
Prayer is critical in these areas where Christian face such odds. Please take time to pray, even now, for Jamil and his team as they travel, strategize with, encourage, and develop Christ followers throughout the MENA region, particularly in the Gulf region. Join us, if you can, for our monthly mission prayer meetings on the third Wednesday of each month from 10-11:30 am, at the church or by Zoom. 
Please pray for our Mission Council as they continue to find ways to come alongside IFES MENA ministry. 
Please pray that our own church budget will be met, even over and above, so that our mission partners, like Jamil and his team, can continue to be supported. Annual support for one staff person in Jamil's region can cost as little $6,000!
This Sunday's sermon on 'The Power of the Cross" has been lived out every day by our MENA brothers and sisters. May we, too, know the compelling power of the cross in our own lives!
In Christ,
David Ivaska and Caryl Weinberg
First Pres Mission Council  
Please contact David Ivaska if you are interested in learning more or would like to be part of the Missions prayer time.  DavidIvaska@yahoo.com 
Image by Pete Linforth from Pixabay