This week's eNewsletter Feature
was written by Jim Teague
FPCE director of communications.
Dear friends,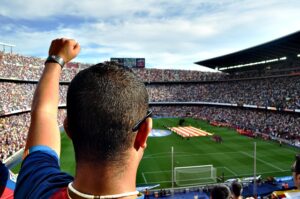 It can be easy to categorize ourselves. In fact, most of us do it on a regular basis, without even thinking about it. I, for example, am each of the following:
Ardent supporter of the men's and women's U.S. national soccer teams, trying to watch each game without fail, and seeking all the news I can find
Often cheering on the Dutch men's national team, too, who I used to watch with my dad
Follower of the Dutch professional team Ajax (from Amsterdam, where my dad grew up)
Pleased when Leicester City, Aston Villa, or Chelsea do well in the English Premier League, as I have long friendships with teammates who also support those clubs
Rooting for the Chicago Fire men's professional team, but don't keep up with them if they are not doing well
Watching the occasional game from the German, Spanish, or Italian leagues
Rabid soccer fan
Whether you're a soccer fan or not, you may have noticed each of these concentric circles of soccer interest indicates a level of support and time commitment which varies with the teams involved and the relational ties I have to them.
I could make similar lists or diagrams of circles to illustrate my commitment to NFL teams, fiction writers, favorite foods, or any other of dozens of personal interests I have. The same is true to varying degrees in my relationships with family members, coworkers, and friends.
Jesus, being fully human, spent his time on Earth with equally varied circles of family, disciples, other followers — and a fair number of detractors. As he moved through his three years of ministry prior to his death and resurrection, there were a select few, the Apostles, who he chose to be his students. In the end, he entrusted them with the Gospel, commissioning them (and, by extension, us) to share it locally, regionally, and around the world.
And even among the Apostles, it appears there were three — Peter, James, and John — who seemed to have an especially close relationship with him. He didn't love the others any less or somehow value them as less worthy. But, like all of us, his circle of relationships had many, many rings of intimacy and depth.
We are just beginning our new teaching series on what it means to live as a disciple of Jesus: "With Head, Heart, and Hands: The call to follow Jesus." We are starting out with a focus on getting our heads around what it means to be a disciple, and on Sunday Senior Pastor Ray Hylton will discuss "The Call" as he draws from 1 Corinthians 1:1-9.
In his letter to the church at Corinth, the Apostle Paul begins by reminding them that they are "called to be his holy people, together with all those everywhere who call on the name of our Lord Jesus Christ…."
Think about that.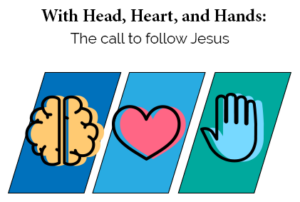 We, here and now, are in relationship with all those Paul was addressing, and all those he was referring to. I am in awe of that. By calling on the name of Jesus, we are connected to not only the body of Christ we worship and fellowship with regularly in the community at First Pres, but — through time, Word, and spirit — back to the very beginning of the church.
I try to keep Jesus at the center of all my other relationships — inside and outside the church — with inconsistent success.
Unlike my varied relationships with soccer teams, food groups, or cousins, the call to be a disciple is for all of us. My relationship with Jesus may have a good deal of variation from yours, and what he calls me to will likely be very different from what he asks of you. But his love for you, me, and all those in his church is consistent and without end.
I am not sure I can fully wrap my head around that, though some days are better than others. Even so, the immeasurable depth of his love means I don't have to worry about it ever running out. I can follow his call without fear of rejection.
Sunday's worship service begins at 9:30 a.m. and we encourage all who can to be with us. If you can't join us in the Sanctuary, participate online at https://live.firstpresevanston.org.
I'm excited to be among those in your circle of connections, and I and the rest of the First Pres staff are genuinely excited to see what God does this year as he teaches us how to live as his disciples!
Grace and peace to you all!
Jim Teague
FPCE Director of Communications
P.S. – This Sunday, we will hear a presentation about our amazing Small Groups ministry. Visit https://firstpresevanston.org/small-groups/ to learn all about our offerings and how you can take part!
Image by Damon Nofar from Pixabay