This week's eNewsletter Feature
was written by Rev. Dr. Raymond Hylton
FPCE senior pastor.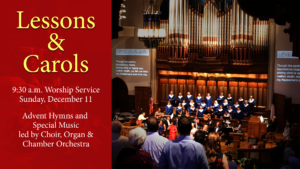 Dear friends,
I hope you are having a great week.
On the island of Jamaica, there are many Anglican, Methodist, and Catholic communities—a legacy of British Colonial rule. Because of the blessed influence of my mother, I, however, grew up attending congregations in the "Free Church" traditional style of worship.
During special seasons of the Church calendar, such as Christmas Eve, these "high liturgy" congregations host special Lessons and Carols services. One blessing of being involved with Jamaica Youth for Christ was that it resulted in my exposure to these churches and their liturgical practices. They have a unique connection to a difficult time in history.
At the end of the first World War, Europe was burying its young men, and world leaders promised that this bloody conflict would be humanity's last war. Unfortunately, history is still "laughing" at their optimism.
In 1918, at the end of the so-called "war to end all wars," young Eric Milner-White, having served as a British army chaplain, returned to England as the new Dean of King's College. He started dreaming of a more creative Christmas Eve service to encourage England's war-weary citizens. The atrocities of war were hardening the hearts of young men traumatized by death. Milner wondered how he could communicate a message of God's love to these hurting people?
Milner adapted the Festival of Nine Lessons and Carols, first celebrated at King's College, Cambridge, on Christmas Eve in 1918, as an outreach to the hurt and alienated. Cambridge alone had lost over 211 young men from King's College.
He used the pattern of a similar service written for the cathedral at Truro in Cornwall in 1880.
One hundred and four years later, congregations around the world still celebrate the Festival of Lessons and Carols.  
This Sunday, our congregation will host its own version of Lessons and Carols, joining together in Moses' & Miriam's Song, Hannah's Song, and Mary's Song, the "Magnificat," inviting us to join with God's people from throughout the ages as we lift our voices together in praise for His continual deliverance.
Our nation is not recovering from the trauma of world war, but we are facing massive existential problems created by the pandemic. Our nation is weary and battered by internecine political strife, high inflation, and acute anxiety about the future.
I encourage you to invite a family member or friend to this special service with you, and join us in person this Sunday at 9:30 a.m. Whenever we exalt and lift Jesus our Messiah, his light will shine in all the dark places of our lives and revive our sagging spirits.
Also, before you join us, pray that the Spirit of the Lord will rest upon all who attend.
Waiting for His coming.
Pastor Raymond Hylton