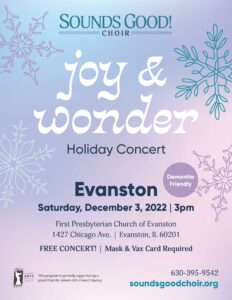 Saturday | 3 p.m. in the FPCE Sanctuary
FREE Admission; Mask and vaccination card required.
Join the Sounds Good Community Choir of Evanston as they present their Holiday Concert "Joy and Wonder" in the First Pres Sanctuary. Sounds Good collaborated with our First Pres Chancel Choir this past Sunday as we began Advent, rehearses in our Parlor every Wednesday morning, and is co-conducted by First Pres director of worship Hannah McConnell.