This week's eNewsletter Feature
was written by Rev. Amanda Golbek
FPCE minister of children and youth.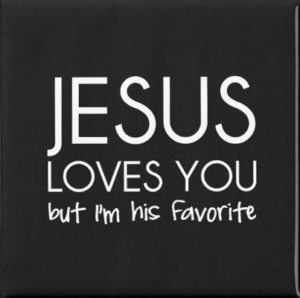 Every morning as I make my coffee I glance at my refrigerator and see the collage of magnets that I have collected there over the years. One in particular always makes me laugh. The magnet says, Jesus loves you, but I'm his favorite.
This magnet was gifted to me by my college campus ministry pastor. I still remember receiving it in my first Care package at seminary. The intent behind it was to offer some levity amid a daunting season in my faith journey.
While the intention — and the effect — is humorous, it actually points to a deep paradox of Christian discipleship. We follow a God that has unbounding love for each and every one of us. As this Sunday's Scripture from Acts makes clear, our God shows no partiality for any child of God. The paradox is that while God loves every one of us equally and fully, we feel, through each of our own unique relationship with God, that we are the favorite: Each and every one of us, God's chosen one, given special gifts for special, God-ordained, purposes.
This tension we live within, where we know on the one hand everyone is loved by God while, on the other, that we are special in the eyes of God, is difficult to keep in balance. We can easily lose sight of the vastness of God's love and desire for all to claim their place in the family of God. We can see the community of faith as a place to affirm our own special standing in God's Kingdom rather than a place where we continue to be shaped and formed in our common walk with Christ. We can also easily find ourselves focused so deeply on keeping our spot in the family of God that we forget that our call as brothers and sisters in Christ is to work to invite everyone we meet into the family.
This Sunday is World Communion Sunday. When we gather for worship at 9:30 a.m., we will celebrate Communion acknowledging the broadness of Christ's church and the manifold inbreaking of the Kingdom of God throughout the countries of the world.
This will also be the culminating Sunday of our series 'A Place at the Table'. Through worship, Communion, and our international potluck Agape meal, we will experience the truth that God's love is abounding, and that all are invited, welcomed, and have a place at God's great feast table — this day and in all the days to come.
I look forward to seeing you on Sunday.
Amanda Golbek
Minister of Children & Youth