This week's eNewsletter Feature
was written by Jim Teague
FPCE director of communications.
Dear friends,
This week I had the rare privilege of being able to take my camera and head to the outdoors to shoot photos of quail, coyotes, armadillos, roadrunners, and even Gila monsters… all right here in Evanston! 
Amazing, right? 
Were the sightings of these desert creatures right in our own front yard some weird byproduct of climate change? Nope. 
It's Vacation Bible School week here at First Pres, and the animals were the mascots for our various children's groups taking part in this year's theme: "Monumental: Celebrating God's Greatness." 
I am always so impressed when VBS takes place here at the church. There was an energy that began to build in the weeks leading up to the event. Decorations got made. Snacks got purchased, collected, and sorted. Crafts, games, stories and songs were planned out, tested, learned and rehearsed. 
By the time 9 a.m. Monday morning came around, everything was more than ready for the 70+ kids, along with such a wonderful group of volunteers and staff eager to get started. Naturally, there was some apprehension on the part of some of the attendees. After all, our VBS draws kids not only from First Pres but from a number of different churches and families in the area. There were a few young ones who weren't really sure they wanted to be left with strangers, no matter how fun were the decorations in Walker Chapel. 
But by the time the second song had been sung, pretty much everyone was pumped up and excited for more! Since then, there have been so many different outstanding activities that it's impossible to list them all. The weather has cooperated for the most part, and by today (Thursday) you can see that new friendships have been formed, old friendships strengthened, and (most importantly) the enthusiasm for knowing God and worshiping his greatness is reaching new heights.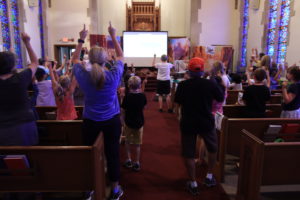 And the Bible stories? On Tuesday, I had a chance to watch three different groups of attendees act out the story of Joseph prophesying to the cupbearer and the baker while they were all in prison. The whole week is filled with lessons from the story of Joseph, which is a perfect lesson of God's greatness and really inspires the kids (and the adults) to trust God for his plans for them and do their best to not worry too much about the future. 
I never attended Vacation Bible School as a kid, so I take every opportunity I can to be a part of it as a (sort of) grown up. I really do get moved emotionally and motivated spiritually by the singing, the creative object lessons, and the great sense of kindness and care being shown by all involved. Even after the kids leave each day at Noon, all that great enthusiasm continues to fill the hearts and halls of the building. 
Now that we are into the first week of August, lots of other preparations are taking place here at FPCE. The pastoral and program staff are gearing up for Kickoff Sunday, which will take place on Sunday, September 11. I am not exaggerating when I tell you we are excited for what is coming ahead. 
We will be giving out more information as the day approaches. 
If you need something in the meantime to get you pumped up about God's goodness, be sure to attend this Sunday's All-Church Picnic at 4 p.m. at Greenwood Beach Park (find more details here). We will worship with a brief Vespers service and then fellowship together. In one sense, we will be culminating our focus on community through our Koinonia meals, but we will also be looking ahead to this fall and all that it will bring. 
We hope to see you there, and of course at our worship and communion service at 10 AM this Sunday, in the Sanctuary and online. 
There is unlikely to be any exotic wildlife roaming the front lawn by then, but there will be lemonade served by the Deacons (who are taking their bi-monthly Deacons Offering collection Sunday, too). 
Blessings to all of you, 
Jim Teague
Director of Communications 
(Photos by Jim Teague)