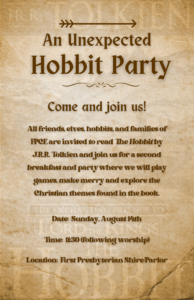 You're Invited to an 'Unexpected' Hobbit Party!
Sunday, August 14 | 11:30 a.m. in the First Presbyterian Shire/Parlor
All friends, elves, hobbits, and families of FPCE are invited to read "The Hobbit" by J.R.R. Tolkien and join us for a second breakfast and party where we will play games, make merry, and explore the Christian themes found in the book!
Mini Hobbit Hole building contest
Unleash your inner Hobbit architect! Build a miniature Hobbit Hole (a house for a Hobbit) Supplies will be available at a table at Lemonade on the Lawn on July 31, or you can use whatever you come up with to build your own special version. Mini Hobbit Holes will be judged at the Hobbit Party on August 14.