This week's eNewsletter Feature
was written by Julie Ruchniewicz
FPCE parish nurse.
Dear friends,
In 1949, May was designated as Mental Health Awareness Month by the Mental Health America (MHA) organization (then known as the National Association for Mental Health), in an effort to reduce the stigma associated with mental health challenges, and to encourage those who need help to seek it. Since 1980, MHA has chosen a theme for each year. The 2022 theme, "Back to Basics," was selected with the goal of providing "foundational knowledge about mental health and mental health conditions and information about what people can do if their mental health is a cause for concern."[1]
There are a few things we know are true about mental illness in America:
We know that one in five people will be impacted by personal experiences of mental health challenges in any given year. Depression, anxiety, OCD, and other mental health challenges exist for those of us in the church, yet sometimes we hesitate to talk about it. Mental illness is sometimes referred to as a "non-casserole" disease, because we often don't feel comfortable in bringing a real or virtual casserole to our friends who are afflicted.[2]
We know that our mental health is a disease of the brain resulting from a complex maze of causes such as: environmental, hereditary, experiential, etc. One can struggle physically from headaches, muscle soreness, digestive issues, sleep disorders, and low energy.
We know that people who are isolated when afflicted with mental illness suffer spiritually, because their loneliness can produce a lack of confidence in God's love. Their self-esteem is damaged, which leads to them doubting in God's (and others') unconditional love. They may wonder: "Is this some punishment for a sin I've committed? Is this somehow my fault?"
I read this untitled poem by Rupi Kaur that really touched me:
when the world comes crashing at your feet
it's okay to let others
help pick up the pieces
if we're present to take part in your happiness
when your circumstances are great
we are more than capable
of sharing your pain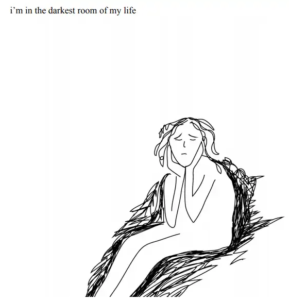 Both a poet and an illustrator (the image here is one of hers), Rupi Kaur has undertaken a variety of mental health topics in her books. Some of these include assault, toxic relationships, addiction, and depression.
What her poem teaches me:
It is okay to reach out to your community, including your church, for help.
We are here in your celebrations of weddings, baptisms and weekly services.
We are also here in your moments of pain.
We care about you and are happy to support you in the ways that we can.
No one should walk this road alone.
As part of our focus on community here at First Pres, we recognize the impact mental health disease can have on the physical, emotional, and mental well-being of our children, our families, and our community. We are striving to live out the gospel, "loving our neighbors as ourselves."
Walking alongside you,
Julie Ruchniewicz,
FPCE parish nurse
Are you trying to get out of "the darkest room" and don't know where to start? Consider reaching out to a Pastor, the Counseling Center, or Stephen Ministry. These Pastoral Resources share the warmth of God's love with those who need it most: the lonely, the depressed, the grieving, and those who are hurting. For more information, please contact Julie Ruchniewicz at 847-864-1472.
[1] https://mhanational.org/mental-health-month
[2] https://www.psychologytoday.com/us/blog/the-antidepressant-diet/201805/mental-illness-the-non-casserole-disease