This week's eNewsletter Feature
was written by Raymond Hylton
FPCE senior pastor.
Dear friends,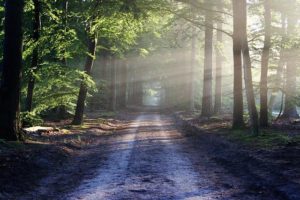 There are these moments in life when the heavens open and the nearness of God feels so close that you can almost touch God's most palpable presence.  
These experiences do not happen every day — I wish they did. Instead, we often live mundane, unspectacular days, living our divine purpose faithfully as we can.   
About five years ago, I was struggling with a host of feelings regarding my self-worth, and I was hurting inside from a variety of life circumstances that felt like sandbags strapped to my shoulder. I went to bed and woke up most days battling my internal hurts and wounds, and I wasn't winning. I wasn't bitter or angry, but I was emotionally worn out. 
It was at that time that one of our church leaders came to me at the end of a worship service and invited me to attend a retreat sponsored by a group of Chicago area Presbyterian congregations.  
I heard myself saying, "No. Don't go." But, surprisingly, the words coming out of my mouth said the opposite. "Sure, I would be interested in coming, but let me check my schedule."  
A few days later, the leader called me, wanting to know my decision. She said, "Pastor Ray, as the senior pastor of our church, we think you would set a good example for the members if they knew you supported our retreat enough to attend." The last thing I needed was more guilt, but for many pastors the congregation's expectations call us to go beyond our feelings.  
So I signed up and attended my first Chicagoland Pilgrimage retreat at the beautiful DeKoven Retreat Center in Racine, Wisconsin. Nestled beside the blue waters of Lake Michigan, the campus that was once Racine College, founded by Dr. James DeKoven, is now a vibrant retreat center, a place of healing for tired souls.  
I didn't know what to expect when I arrived there that Friday evening. "Come with an open heart," the leaders said, "and allow God to surprise you. We are here to serve you, and while you are here, we want you to drop the clergy titles and just be Ray." 
That weekend, I dropped more than my clergy title.  
Through the infectious joy and loving hospitality of the lay leaders —many who are active members of First Pres — God met me in the talks, the quiet times, the meals, and the fun and laughter.  
But it was at the communion service that the sandbags finally fell from my shoulders. Hearing once again "The body of Christ given for you, the blood of Christ shed for your sin" and knowing in my heart these were not just rote, dead religious words. The words were food and water, sustenance for my soul.  
I went forward to receive prayer from one of the spiritual leaders. The moment this brother laid his hands on me, my body shook, my heart broke, and I wept not tears of sadness but tears of Joy. The Holy Spirit washed me, held me, lifted me, and strengthened me.  
Pilgrimage is one of the jewels of First Pres. God continues to use this powerful retreat experience to awaken and build up those who follow Jesus.  
Would you like to know more about Pilgrimage and the difference it can make in your life? This coming Saturday, I will be at the church with other First Pres leaders and Chicagoland Pilgrimage leaders for a Taste of Pilgrimage. Come and learn about the retreat. Hear the stories of others, experience some of the worship, and hear the voice of God calling you to a deeper life in the Spirit.  
If you would like to attend, don't hesitate to reach out to me by email or contact Karen Bregman at jkjka6@sbcglobal.net or call 312-882-2121 for more details.  
Looking forward to seeing you, 
In Christ,
Pastor Ray Hylton