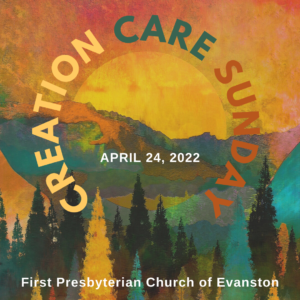 This week's eNewsletter Feature
was written by Hannah McConnell
FPCE director of worship & music and choir director.
Dear friend,
If you hang out with me long enough, you'll discover that I am really into composting. Not because of some delusions of gardening grandeur (if you hang out with me long enough, you'll also discover that I am a mortal threat to houseplants), but as a practice that is both particularly good for the long-term health of God's greater creation and extraordinarily symbolic to me as a follower of Christ.
The promise of Christ to transform us and raise us to new life — the call to die to ourselves as we follow the call of Christ ("unless a grain of wheat falls into the ground and dies…"), the contemplation of our mortality on Ash Wednesday ("from dust you came and to dust you shall return") — these resonances are somehow easier to grab onto if, day after day, week after week, I am throwing my coffee grounds and  banana peels into that compost bucket and sending them off to be transformed into rich soil in which things can grow.
At base, composting is also the redemption and transformation of the unwanted and discarded, which is precisely our story as believers. It's also the ongoing Stewardship of the Trash.
As you've guessed, creation care is an aspect of our Christian faith that is near to my heart — and many of you have shared with me that it is near to your hearts as well. As followers of Christ, the theology of creation and practices of creation care transcend political talking points, climate conferences, or lifestyle trends. It demands something much, much more "meta," more all-encompassing, and inextricably linked with the huge fundamental questions of the faith: What is my right relationship with God? What is my right relationship with my neighbor?
Even more fascinating, and way more epic, are the questions of this Easter season as they interact with the creation. What does the bodily resurrection of Christ mean for me? For the rest of creation? What does John's astonishing vision of Christ's exclamation in Revelation — "Behold! I am making all things new!" — mean for us and our fallen creation? What does our confession in Apostle's Creed — "We believe in the resurrection of the body" — have to do with the New Heaven and the New Earth?
And what might this all have to do with the compost?!
This Sunday, we'll be joining together in creation care Sunday at First Pres, rejoicing in God's abundance to us in creation, God's revelation of His awe, majesty, and beauty through creation, and God's lavish creativity within his creation. We'll contemplate our relationship with creation, and consider anew God's charge to us as humans to care for and steward the creation.
I can't wait to continue the conversation with you there.
Cheers!
Hannah McConnell
Director of Worship & Music and Choir Director