eNewsletter Feature Story – February 17, 2022
This week's eNewsletter feature
was written by Rev. Raymond Hylton,
FPCE senior pastor.
At our staff meeting this Tuesday, we enjoyed a visit from longtime First Pres members Jim and Amy McAuley — medical missionaries serving around the world, and for the past six years serving the Whiteriver Apache Indian Reservation in east-central Arizona.  
Jim and Amy told us sad stories of lasting generational trauma — many decades of generational trauma Native Americans continue to endure due to racist, exploitative policies, and broken promises of the Federal government. But we also heard stories of healing, hope, new bridges of trust between "outsiders" — white people — and Native Americans.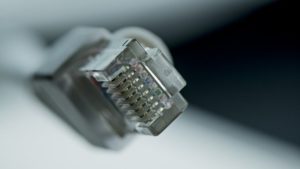 They also talked specifically about profound isolation and disruption caused by COVID-19. Trying to save lives and stop the spread, leaders of these Reservations imposed strict rules against gathering for worship, school, and other social activities.  
With no internet access, kids were unable to do virtual classes, and Sunday and midweek religious activities stopped. "God created us to gather in community with others," said Amy. "And without in-person, or virtual gatherings, people slipped into dark spaces — depression, addictions, and other negative coping strategies."  
Since their visit, considering anew a fact that they drove home repeatedly, I've found it hard to get over the idea that the richest country in the world has a Digital Divide.  
Did you know there are places in Chicago, New York City, in Silicon Valley, and on many Native American Reservations where whole communities are unable to exploit the benefits of the internet? Even in close proximity to Stanford University, East Palo Alto lacks the quality of teaching and resources that many of the surrounding communities enjoy. 
Access is an important quality of life for all people. Access to school, medical care, voting, libraries, restaurants, and public transportation. In fact, the entire struggle for civil rights for African Americans was fueled by the desire for access being provided to all and not just to a special class of people. Access to all equal opportunities for life, liberty, and fair means and ways for the pursuit of happiness. 
In Christianity, access is an important theological truth. Through Christ's death and resurrection, every race, language, and group of people has access to God through Christ.  
For example, the writer of Hebrews reminded persecuted followers of Jesus that they have access. Let us, therefore, approach the throne of grace with boldness, so that we may receive mercy and find grace to help in time of need (Hebrews 4:16). 
Jesus said, Come to me, all of you who are weary and carry heavy burdens, and I will give you rest (Matthew 11:28). 
And this: Keep on asking, and you will receive what you ask for. Keep on seeking, and you will find. Keep on knocking, and the door will be opened to you. For everyone who asks, receives. Everyone who seeks finds. And to everyone who knocks, the door will be opened (Matthew 7:7-8). 
After listening to the McAuleys, I couldn't help but see the bitter irony of living in a world gaining more and more access through technology while at the same time over 1.2 billion people lack access to clean water, electricity, and internet services.  
On the other hand, the good news of the Gospel is about a Savior in whom there is no east or west, in him no south or north, but one great fellowship of love throughout the whole wide earth.  
Whether you join us in person or online, this coming Sunday's worship service celebrates prayer as free and full access to God. Come and be reminded that you can have direct contact and friendship with God through prayer. I hope you will join us.  
Thankful always for our Savior, 
Pastor Ray Hylton