eNewsletter Feature Story – January 5, 2022
This week's eNewsletter feature
was written by Rev. Raymond Hylton,
FPCE senior pastor.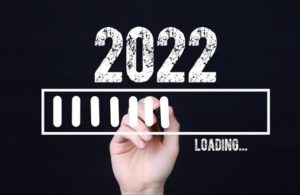 I am not sure who to believe on this, but the practice of making New Year's resolutions supposedly started some 4,000 years ago with the Babylonians. Their year started not in January, but in March, when crops were planted. A new beginning. For their fresh start, ancient Babylonians believed that the gods would prosper them if they repaid their debts by that time and returned borrowed property.
Other sources say New Year's resolutions really started with the reform-minded Julius Caesar. In honor of the two-faced Roman god Janus, Romans of the pre-Christian era selected January because Janus's faces looked back on the past and forward to the future. Roman citizens offered sacrifices to the deity and made promises of good conduct for the coming year.
In the 18th century, John Wesley, founder of Methodism, created Covenant Renewal services, commonly held on New Year's Eve. Wesley was concerned with the bacchanalian celebrations of many people on New Year's Eve night. These services became popular worldwide in various denominations, particularly among African American congregations. Today, they are commonly called Watch Night services.
For me, it really doesn't matter if the Babylonians, Romans, or the Wesley brothers were the ones who created New Year's resolutions.
My reason for marking the start of a New Year comes from Psalm 90:12: So teach us to number our days so that we may get a heart of wisdom.
Two essential thoughts from this nugget of truth:
Time on earth is not a renewable resource — so budget your days thoughtfully.
Gaining wisdom in how to live to the glory of God is a dynamic, ever-growing process.
For the last 38 years, come January 1, Judith and I pause, reflect, and thank God for the year just ended. And then we entrust the mysterious, untrammeled days ahead of us to the Lord. Finally, because we don't know how long we have or what undetermined test or trial awaits us, we take time to pray, set goals, and resolve to more faithfully steward our lives in the coming year.
How about you, my precious sisters and brothers?
If it is true that human beings are the only creatures with the capacity to imagine, dream, and then work to bring those dreams to reality, then let's use every opportunity to motivate yourself to create, love, and bring change to your life and those around you.
Think about areas of your life:
Health
Weight
Fitness
Eating
Relationships
Intellect
Spiritual life
Finances
Emotions
Service
Worship attendance
Now pick one or two areas you would like to develop and strengthen. When you have found one or two areas, then ask why. Why did I choose those areas? Why do I want them to change? If you don't have a compelling why then you won't find a way.
Connect with me by email and let me know what you are working on and why.
Seeking to grow in Grace and in the knowledge of Christ,
Pastor Ray Hylton
FPCE Senior Pastor
Photo credit: "Handwriting Text 2022 Loading" by Jernej Furman  is licensed under CC BY 2.0.