eNewsletter Feature Story – January 13, 2022
This week's eNewsletter feature
was written by Rev. Raymond Hylton,
FPCE senior pastor.
Someone once said, "It is no longer a choice between violence and nonviolence in this world; it's nonviolence or nonexistence."
This person also said, "Let us develop a kind of dangerous unselfishness."
Do you recognize these words? And, if you do, who said them?
If you guessed Dr. Martin Luther King, Jr., you are correct!
Dr. King's dream of American moral possibilities expressed a universal hope for human beings that drew heavily from the Hebrew prophets, the teachings of Jesus of Nazareth, and the nonviolent actions of India's Mahatma Gandhi.
What I find most profoundly inspiring about this man is that he saw leadership as a process of relating the daily plight of humankind to the eternal truths of almighty God.
Many news outlets will emphasize his activism and unselfishness when our nation reflects on his life this weekend, in honor of Martin Luther King Day. But some will unwittingly diminish or overlook the fact that Dr. King was, first of all, a man of faith and a preacher of the Gospel of Jesus Christ.
His life exuded confident hope in the Resurrection, not only of his spiritual body but also through the vision of an America that sees every person imbued with the imago dei — ideals he preached and lived.
Recently, I read the inspiring book A Call to Conscience: The Landmark Speeches of Martin Luther King, Jr., edited by Kris Shepard and Clayborne Carson. The authors recapture many of King's speeches from the Montgomery, Alabama bus boycotts to his final speech at the Bishop Charles Mason Temple in Memphis, Tennessee, the night before he was assassinated on April 4, 1968.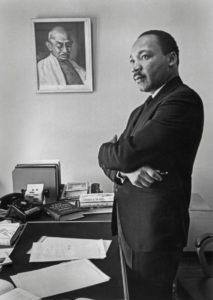 As we all know, Martin Luther King didn't have a long life. He never reached the age of 40, shot by a single rifle bullet just a few months after his 39th birthday. Throughout his years of ministry, he always knew that martyrdom was the potential price of challenging America's version of racial separation.
Another great American, Abraham Lincoln, uttered these wise words acutely true of King and so many others: And in the end, it's not the years in your life that count; it's the life in your years.
Reading A Call to Conscience, something I hadn't seen before, and which raised even higher my admiration for this great man of God, are the rich Biblical and theological truths, references, and reflections that sparked and suffused all his public speeches.
Of course, as a fellow pastor, I would expect his sermons in the local church to have this deep spiritual richness. But, even when giving his acceptance speech for the Nobel Peace Prize, he channeled the vision of the sixth century BC prophet, Isaiah:
"I still believe that one day mankind will bow before the altars of God and be crowned triumphant over war and bloodshed, and nonviolent redemptive goodwill proclaimed the rule of the land. And the lion and the lamb shall lie down together, and every man shall sit under his own vine and fig tree, and none shall be afraid. (see Isaiah 6:11). I still believe that we shall overcome."
I look forward to us being together online this Sunday for worship. We continue our Defining Values teaching series by considering Value number 3 – Scriptural: How might Holy Scripture influence our thinking and direct our actions in the world?
Stay strong and courageous,
Pastor Ray Hylton