eNewsletter Feature Story – January 27, 2022
This week's eNewsletter feature
was written by Rev. Raymond Hylton,
FPCE senior pastor.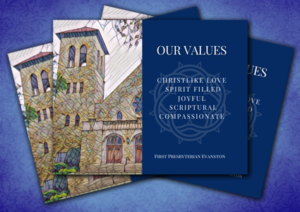 At Tuesday's meeting, our Session voted unanimously to return to in-person worship this Sunday. So I am looking forward to seeing you!
This Sunday, I conclude our teaching series on the Defining Values that shape our church.
(Remember to pick up one of the stunning magnets outlining the five First Pres Defining Values. Display it in a central, visible place as a reminder that this is how we want to be known in the City of Evanston.)
The final value I will discuss with you on Sunday is Compassion.
Watch the evening news — it is hard to miss the obvious fact that our society's compassion muscles are atrophying. Look around you on the streets around your home, shop, or office — society's "orphans" are left empty-handed and stranded in the winter cold by far too many passers-by.
We at First Pres have a missional opportunity to shine the light and love of Christ into the void and chaos of hate, violence, selfishness, and human neglect. And we as a church have all the resources to make a difference.
Did you know that compassion, like an underground aquifer, flows through every part of Scripture? The Scriptures nourish our understanding of God's limitless heart. They explain the impulses for Jesus's ministry, and show us a template for relating to each other in ways that bring Good News to people in need.
Over and over again, Scripture reveals that God is a God of compassion: But you, O Lord, are a compassionate and gracious God (Ps. 86:15 NIV).
The LORD is gracious and compassionate, slow to anger, and rich in love. The LORD is good to all; he has compassion on all he has made (Ps. 145:8–9 NIV).
And then, of course — as we have just celebrated — the great Miracle happened: the Word became flesh and lived among us. Full of grace and truth, Jesus made visible the invisible God our human eyes otherwise cannot see. Jesus modeled for us that He is the Lord of Compassion. He showed us what that looked like, what it should and can be.
As followers of Jesus — people made in the image of God — we have the same ability to live a life of compassion.
Again and again, Old Testament and New, Scripture instructs us to show compassion to others:
Be kind and compassionate to one another. (Eph. 4:32 NIV)
Therefore, as God's chosen people, holy and dearly loved, clothe yourselves with compassion. (Col. 3:12 NIV)
Finally, all of you, live in harmony with one another; be sympathetic, love as brothers and sisters, be compassionate and humble. (1 Peter 3:8 NIV)
One of the most important tasks that Jesus Followers undertake is to imitate the compassionate ways of Jesus. They (we!) are very concerned about the pain and suffering of others, and are willing to lend a helping hand every step of the way.
Former Moody Church Senior Pastor, Warren Wiersbe, defined compassion as "your pain in my heart."
As much as we are hard-wired by God to feel and respond to the pain of others, we are constantly fighting the urge to focus on the self — me, me, me.
Many people struggle with the Jericho Road syndrome (see Luke 10:25-37). When face-to-face with wounded fellow travelers on the road of life, they cross over to the other side of the road. Or fear immobilizes their compassionate instincts. Some are too busy to become entangled in other people's messy lives, or they simply just don't care.
What happens when we shut down our God-given impulses to act and care for those who suffer? We restrict our growth in all the other virtues — Love, Joy, Peace, Patience, Gentleness, and Kindness. That's why some of the most joyful, contented, resilient people are people of compassion.
Try it today. As you move about at home, at work, in the store, on the train, be mindful of others. Look at others through the eyes of Jesus. Don't hesitate to offer simple gestures, like saying, "Good morning," "Thank you," or "How can I pray for you, or help you?"
These simple, but powerful gestures open doors, then, so we can take action.
Yes, there is a cost. Time, maybe money, going the extra mile, a disrupted schedule, but it is worth the joy of helping to lift another person's burdens.
In 1747 Charles Wesley, Methodist leader and hymnist, described how Jesus helps us live compassionate lives:
Jesus, Thou art all compassion,
Pure unbounded love Thou art;
Visit us with Thy salvation,
Enter every trembling heart.
In Love,
Pastor Ray Hylton