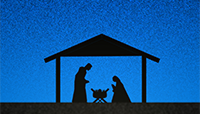 For many, Christmas is not a time of joy and celebration, but rather a time of grieving. The added pain and isolation of the current pandemic have intensified many of these feelings. Join us Wednesday, December 22, at 7 p.m. on Zoom as we gather in a guided time of lifting these struggles and concerns to God, who delights in drawing near and giving us comfort.
This will be a time for expressing our thoughts and feelings to God and one another as we support one another through Scripture and prayer.
The Zoom link can be found here: https://us02web.zoom.us/j/89109444904. Contact Hannah McConnell for more details.