eNewsletter Feature Story – November 11, 2021
This week's eNewsletter feature
was written by Hannah McConnell,
FPCE director of music and worship.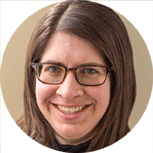 Happy Thirty-third Sunday of Ordinary Time!
After beginning way back on the Sunday after the Baptism of our Lord (January 10), our long walk through the part of the church year that we call "Ordinary Time" has been punctuated by the wild joy of Easter (April 4), the fire of Pentecost (May 23), the mystery of Trinity Sunday (May 30), the solemn commemoration of All Saints Sunday (Nov. 7) and (spoiler alert) the big apotheosis of Christ the King Sunday (Nov. 21). But, mostly, it's been a lot of… well, ordinary-ness in the church year. (While it's been a rather strange sort of "ordinary" this year in most of our daily lives, the church year stays right on course.)
I know this because each week I type the new Sunday onto the top of our bulletin – Eleventh Sunday of Ordinary Time…Twelfth Sunday of Ordinary Time….Thirteenth Sunday of Ordinary Time…Twenty-eighth Sunday of Ordinary Time…Twenty-ninth Sunday of Ordinary Time…Thirtieth Sunday of Ordinary Time…like a young child counting steps up a flight of stairs. Very. Very. Slowly. One. At. A. Time. (Are we there yet?!)
But during this ordinary week, just another week, just the week after the Thirty-second Sunday in Ordinary Time, the anything-but-ordinary unfolds. Children, at long last, secure an appointment to receive their COVID-19 vaccines. Three friends walk through their third trimester and await the imminent arrival of their beautiful babies.  Rehearsals, at last, begin for long-delayed in-person Christmas concerts. A friend buries his father after two and a half years of dreading the day. Our church staff changes again. A terrifying medical situation is shared. We meet new friends during last Sunday's Agape Meal, while we are surprised to find that so many old friends are suddenly living elsewhere.
Yes, while our lives spin beyond our controlling, this Sunday, the Thirty-third Sunday of Ordinary Time, we hear and wrestle with, "He who has promised is faithful" (Hebrews 10:23). Faithful to save us, faithful to comfort us, faithful to be the same yesterday, today, and forever (Isaiah 66:13, Hebrews 13:8, among many others).
My organist friends get to play a special musical metaphor of faithfulness and steadfastness, a reflection in sound of our spinning lives over a foundation of ultimate solidity. It's called "pedal point," and, although it can appear at many points in a song (and in many genres of music), the iconic way we hear it is at the moment at the end of a long and complex song when the organist's foot finally arrives on and sustains the lowest note of the final chord of the piece, while above the feet the organist's hands still whirl in harmonies that clash with that foundational note, until finally coming to join in the final chord, in perfect harmony with the sustained pedal note.
As we whirl in our life, through the Ordinary Times that bless and grieve, may we remember the through-line of our church year and the pedal point of our lives — our Lord Jesus, who has died, risen, and will come again.
(And this Sunday, be sure to wish each other a very Happy Thirty-third Sunday of Ordinary Time!)
Cheers,
Hannah Dixon McConnell
Director of Worship & Music and Choir Director