eNewsletter Feature Story – Week of August 8-August 14, 2021
This week's eNewsletter feature
was written by Jim Teague,
First Pres director of communications.
Dear Friends,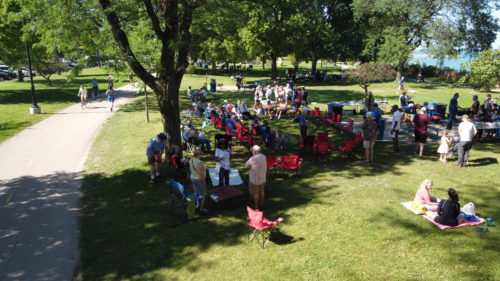 There is something to be said for startling teenagers — especially when it is done in the name of the Lord!
For those of you unable to make it this past Sunday afternoon, we had a Vespers service followed by baptisms in Lake Michigan for four First Pres attendees as part of our All-Church Cookout at Dawes Park. As our crowd of picnickers (some might have described us as more of a rabble or a mob) made the short trek to Greenwood Street Beach, we had to pass through a gate where two teens were on duty to take names, check beach passes, and sell tickets to those wanting to swim.
But we weren't there to swim (even though a few of our number did get a good soaking!). Anyone observing us would have thought we were there to party, and I guess we were.
I wasn't at the front of the line when our throng (around 100 in number) made its way toward the two teens at the gate, so I don't know for sure what their faces were like when we first arrived. I was at the end of the line, though, and I can tell you that they were startled.
These were teenagers (a young man and a young woman), so, of course, they played it cool. Even so, their well-rehearsed looks of boredom and disinterest were unable to mask their surprise at both the number and the variety of our group's members. While their faces remained composed and unexpressive, their eyes darted back and forth, taking in the scene. As the last of us walked past them, they looked toward us and then back at one another with seriously raised eyebrows (I took a peek behind as we passed by).
And it wasn't just the teens who were astonished!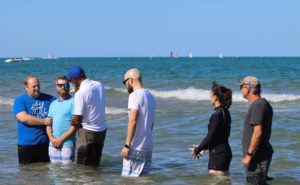 Sunbathers and swimmers alike turned to gawk at us as we marched north on the narrow strip of sand toward an empty part of the beach where the baptisms would take place. What a sight we were! Young children, loud and energetic; older folks with canes engaged in lively discussions; the well-dressed and the ultra-casual; some in Middle Eastern garb while others were dressed in button-down dress shirts and khaki slacks. Pastor Henry Coates led the way in his swim trunks and a blue shirt emblazoned with the words "The Good Life" with the baptism candidates Jacob Collins, Brett Pender, Faith Yao, and Kon Savoy following close behind.
Sunny and warm with a breeze moving the trees near the shore, the weather was perfect and (I am told) the water was comfortable, too.
And the smiles! Outstanding! These were not your typical "nice to see you and have a nice day" variety. These were the ear-to-ear "I just can't help myself because God is so good, and we are surely beloved by Him" sort where people see the bits of corn stuck between your teeth and you just couldn't care less.
At one point our gang moved past a woman sunbathing near the shore retaining rocks. We were anything but quiet and it is possible (likely) we disturbed her late afternoon rest. She sat up, took a look at us, and a grin crossed her face which was one part benign irritation but three parts "What could possibly be so great that these people are all so happy about?"
She was bemused, and clearly our smiles had become at least somewhat contagious.
Pastor Henry and Pastor Raymond Hylton had the task (the honor, really) of dunking those who had professed their faith publicly in the brief service held in the park minutes earlier.
Pastor Henry and Pastor Ray are, shall we say, height opposites? As a result, their efforts to coordinate the dunkings posed a challenge, with Henry saying to me later (with a huge smile and a chuckle) "I was the one closest to the water, so I was the one who spent more time in it." Next time, Pastor Henry noted, Pastor Ray and he will need to go further into the lake, with Pastor Ray positioned on the deeper side.
There were a number of folks in our flock who had never been to a baptism before. Among our guests Sunday were Syrian families who have come to know the First Pres community through our First Friends ministry. They treated all of us at the picnic to a sampling of their cooking including delicious spiced meats cooked over a charcoal fire. Amazing!
At different times during the baptisms, one of the children and an adult asked why the people being baptized had to be covered in the lake waters as part of the ceremony. It opened the door for a brief comment to them about the symbolism of how, as new believers, we die and go into the water like being buried, and coming out with our new lives because of what Jesus has done for us.
First Pres Director of Mission Caryl Weinberg said these kinds of opportunities are "so amazing — so precious," and will surely result in other discussions with some of these families.
Caryl shared one other comment our friends from Syria made at the end of the picnic.
"They had so much fun and wondered if we could do it all again next Sunday," Caryl said with a chuckle.
While we can't pull off another wonderful lakeside gathering this week, she assured them we will have lots of other opportunities to celebrate with them.
As I left the beach, I felt sand which had made its way into my shoes, grinding between my socks and the inner soles. Normally, this would be at very least an irritation which I would be quick to dispose of. This time, however, it felt (and still feels) like a pleasant reminder of a recent joy.
This Sunday, Pastor Ray will be preaching from Psalm 84:1–12.
It opens with the following passage from verses 1 & 2:
How lovely is your dwelling place,
    O Lord of hosts!
My soul longs, indeed it faints
    for the courts of the Lord;
my heart and my flesh sing for joy
    to the living God.
Even though we were on a tiny, crowded beach in Evanston this past Sunday, it seemed as though we were catching a glimpse of "the courts of the Lord." What a lovely foretaste we had!
Hoping to see you this Sunday as we celebrate together again in God's presence,
Jim Teague
First Pres Director of Communications