eNewsletter Feature Story – Week of July 4 thru July 10, 2021
This week's eNewsletter feature
was written by Rev. Henry Coates,
FPCE associate pastor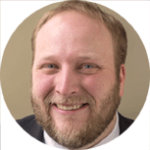 Dear Friends
Seeing as Pastor Ray will be returning from his three-month sabbatical next week, I thought I would offer a brief reflection, from my perspective, on what it felt like to help keep the boat afloat for this passage of time.
Actually, this reflection is more like a simple exhalation of gratitude.
First and foremost, it must be said that First Pres is staffed by one of the most competent and committed group of professionals I have ever encountered. What keeps this church going on the operational side of things is the incredible team assembled, so deeply dedicated to serving God by and through serving our congregation and wider community.
Acting as temporary Head of Staff while still seeing to my own duties as Associate Pastor for Stewardship and Discipleship kept me quite busy. So, knowing that I was able to rely on people like Nurse Julie R. to help with Pastoral Care, or Amanda Golbek to run our weekly staff meetings and work on management and calendaring initiatives, with Caryl Weinberg constantly being willing to step in and aid in any situation — all helped me concentrate on the essential business of my job.
And I would surely be remiss not to bring attention to how — week after week since we were forced online back in March, 2020 — our team has worked so hard to bring you faithful, God-honoring worship. Jim Teague, Hannah McConnell and their teams have operated heroically, and I must here thank them publicly for their faithful service.
Eleanor Ehresman and Scott Klamm getting the business office in order, Janice Dobschuetz acting as Office Administrator, Gail Dotson and Andrew Griffin holding down the Front Desk, and Andy Wallgren serving as our highly capable building manager — all rounded out a magnificent front office team. Without them, our church doors would have not reopened when they did and things could not have operated nearly so smoothly.
First Pres is nothing without our countless faithful volunteers who give of their time to advance our church's mission to Know Jesus Christ, to Grow in Him, and to Serve Him through making disciples here in Evanston, Chicagoland, and throughout the world. On the lay leadership side of things, our Session has faithfully continued meeting monthly to be the core governing and visionary body of our church. Without their partnership and leadership, their hard hours volunteered, our church would be much poorer off. I want to thank LeRoy Klemt for so ably serving as Clerk of Session, and for being both a good confidant and mentor to me — not only while Pastor Ray has been away, but for all of the nearly five years I have served here.
Our Board of Trustees, with John Powell acting as President, has certainly had their hands full, and I want to thank him and his fellow Trustees for inviting me to be part of their monthly meetings. John and I have spoken by phone nearly every week these past several months, and I am deeply thankful for him and his leadership; whenever a potential metaphorical fire might be threatening to ignite, he was right there with me in putting it out.
Our Deacons, under the leadership of Marlene Sefton, continue to act as the ordained hands and feet of our congregation called to service, and I am thankful for their continued planning on what Deacons' Ministry at First Pres will look like as we more fully emerge from the pandemic.
I want to offer deep thanks to Elder Rosemary Mauck, who, acting as a member of Session, has met with our Director Level Staff team week in and week out to help guide and encourage effective communication across all levels of our church's leadership structure. Rosemary is a true advocate for our staff, a person of sharp insight and integrity who gets stuff done, and a dedicated servant to Jesus Christ.
I also want to thank our church's Personnel Ministry Council (PMC), headed by Elder Kim Klamm, serving in her third year on Session. PMC operates as a kind of middle management board for all who work at First Pres, and, under Kim's leadership, has turned into a prayerful companion resource to all of us who serve here professionally. PMC has offered me tremendously helpful feedback over many long months now, and has worked closely with me as I have structured my work here. My deep and real thanks to all of them.
The First Presbyterian Church of Evanston is the people, not the building, who gather at the corner of Chicago and Lake. We will be back to worshipping together in our sanctuary by mid-July, and this will be a turning point for us as we step into the post-pandemic future God has prepared for us. I have been deeply challenged and have grown over these past several months that Ray has been away, and will happily step back into my normal role when he returns on July 6th.
This time has not been easy for me — a close friend died unexpectedly right after Easter, and I have lost my grandmother and an uncle. The grief has been real. The sorrow has hit home. Yet, in saying that, I want you all to know that serving you all as your Pastor has been one of the great privileges of my life. I love being your pastor. I have loved serving in the top position these several months. And I have loved working with the teams that make up the leadership of our beloved Church. All we do is to the glory of God and the furthering of God's mission.
At this halfway point of 2021, may we all continue to place our faith in Him who invites us to "get up!" and to follow after Him who is able to do far more than we could ever ask for or imagine. To God be the glory, forever and ever. Amen.
See you down the road. And soon back in our Sanctuary!
Pastor Henry
FPCE Associate Pastor