eNewsletter Feature Story – Week of July 11- June 17, 2021
This week's eNewsletter feature
was written by Julie Ruchniewicz,
FPCE Parish Nurse.
Dear friends,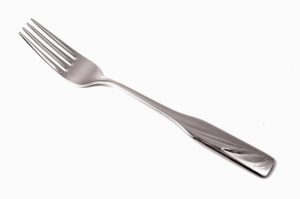 A few weeks back I heard a story which has since become even more meaningful to me.
There was a young woman who had been diagnosed with a terminal illness and given 3 months to live. She was getting her affairs in order, and that included inviting her pastor over to discuss her final wishes. She told him which songs she wanted sung at the service, what scriptures she would like read, and what outfit she wanted to be buried in.
Everything seemed to be in order and the pastor stood to leave when the woman said with some excitement that there was one last essential detail. "What's that?" the pastor asked. "This is very important to me," the woman replied. "I want to be buried with a fork in my right hand."
The pastor was taken aback and admitted he was puzzled by the request.
The young woman explained that the wish came from something her grandmother used to share with those she loved. In all her years of attending family gatherings, socials, and fancy dinners, the grandmother always remembered that when the dishes of the main course were being cleared, someone would inevitably lean over and say "Keep your fork."
It was, she said, her favorite part of the meal because it was a promise that something better was yet to come. It might be velvety chocolate cake, homemade ice cream, or deep-dish apple pie, but it was always something wonderful and with substance.
"I just want people to see me in my casket with a fork in my right hand and wonder, what's with the fork?" She smiled and added "Then, you, my pastor, can tell them to always 'keep their fork,' in this life, as the best is yet to come."
The pastor marveled at how this young woman seemed to have a better understanding of what heaven would be like than people with twice her age and experience.
I share this story because it has stayed with me since I heard it, and I will never look at a fork the same away again.
Not long after I heard it, I shared coffee and an amazing conversation with a friend who was facing a serious illness. She spoke about her thoughts of heaven and all the unknowns, the fears, the hopes, and the faith she needed to sustain herself. She was transparent in her feelings about not wanting to die, but also steadfast in her belief that God stands beside her in the journey. There was such beauty in her convictions, and her vulnerability has stayed with me. Like with the fork, I don't think I will ever look at a cup of coffee the same way again.
Since then, at a church meeting, a book was recommended to me called 7 Lessons from Heaven: How Dying Taught Me to Live a Joy-Filled Life by Mary C. Neal, MD. Dr. Neal gives her account of a kayaking accident that took her life and sent her to heaven and back. Since recovering, she has continually shared her thoughts about the experience to others, and she realized she had so much more to tell. The book delves deeper into her experience, her face-to-face meeting with Jesus and encounters with angels. She also helps us, the readers, bring a little more of heaven into our daily lives.
A quote from Dr. Neal's book includes, "What is dying?" he wrote. "I am standing on the seashore. A ship sails to the morning breeze and starts for the ocean. She is an object and I stand watching her until she fades from the horizon and someone at my side says, 'She is gone!' Gone where? Gone from my sight is all. Her diminished size and loss of sight is in me, not in her. And just at the moment when someone at my side says, 'She is gone!' there are others who are watching her coming, gladly shouting, 'Here she comes!'-and that is dying."
Dr. Neal then shares one of  the lessons her experience has taught her. "Death is not to be feared, because death is not the end. It is a threshold where we leave our physical selves behind and walk whole into eternity." This book and its message have stayed with me and I will never look at a boat the same again.
Last Wednesday, a colleague messaged me that she was not feeling well and that a gall bladder surgery was being scheduled. On Friday, more tests were being done, and by Saturday she was placed in hospice for pancreatic cancer. On Monday morning she passed away.
Ruth was a mix of compassion, medical knowledge, unwavering faith, and a true friend. She had a deep love for her family and friends, her community, and for God. Her last Facebook post encouraged us to Ruth's sudden death, remarkable life and reminder to 'Be the Church' will stay with me and I will never look at my role – as a faith community nurse – the same way again.
Over the last couple of weeks, it seemed as though the concept sof dying and heaven had been nudging me (which means, of course, that God has been nudging me). But, when I sat down to share these thoughts, I was struck by the notion that maybe I am actually being nudged about the concept of living and being present here on earth instead.
It got me thinking how I can get so distracted by life that I can miss God's nudging. Nudging me to just be still and be present in moments with loved ones; nudging me to trust in God and listen for his encouragements so I can be part of His plan; nudging me to remember life is precious and to make time.
God is nudging me to BE VULNERABLE, NOT BE AFRAID, BE THE CHURCH! I will absolutely always remember to KEEP MY FORK!
Julie Ruchniewicz
First Pres Parish Nurse