eNewsletter Feature Story – Week of June 6 – June 12, 2021
This week's eNewsletter feature
was written by Julie Ruchniewicz,
FPCE Parish Nurse.
Dear friends,
Spring has two things in common, spring cleaning and Nurses Week. The ritual of spring cleaning has been traced back to the Iranian Nowruz (the Persian new year) which falls on the first day of spring. It is traditional to clean the house thoroughly either right before or during the first week of Great Lent, which is sometimes referred to as Clean Week.
In 1982, President Ronald Reagan signed a proclamation making May 6,1982, National Recognition Day for Nurses. In 1993 the American Nurses Association Board of Directors expanded the recognition of nurses to a week-long event, permanently making May 6-12 National Nurses Week.
Not to miss out on the respected spring cleaning tradition, I was going through some things in our basement recently, deciding what I could recycle, donate or throw away. I came upon a manilla file folder and I pulled out some old newspaper clippings, letters and pictures.
One of the pictures showed me, as a young woman, holding a tiny baby who is sweetly looking up at me. Seeing that picture instantly transported me back in time. I was a 22-year-old, new neonatal intensive care unit (NICU) nurse, so excited that the infant I had cared for over 4 months (and come to cherish) was now going home.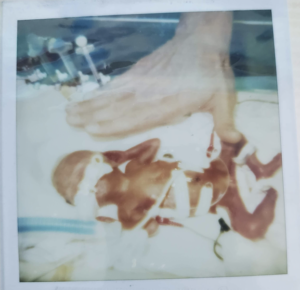 To fully understand the pride I felt in holding that adorable baby girl way back when, you'll need a little history. I started as a NICU nurse at Evanston Hospital in June of 1983. That involved a rigorous 12-week orientation which brought me to a day in September which allowed me to be on my own, independent in my duties in the unit. I was adjusting to working a night shift, when on October 7 I was designated as "first admit." This meant that the first child admitted to the unit that shift was to be my responsibility.
We received a call from an outlying hospital that an extremely premature baby had been born. Her parents were told to take the time they could to hold her as she died. But this little girl had other plans. She cried and cried and cried some more. Even though the doctor suspected the child would not survive, medical ethics required that she be transported to our hospital. That's where this story begins.
From the very first moment, Tricia captured my heart, but even in my new role, my instincts told me she was very fragile. She was extremely premature, born on October 7, with a due date at the end of February of the next year. For a frame of reference, she weighed 14 ounces, was 11 inches long and her dad's wedding ring could go up the arm to rest on her shoulder. A powerful visual!!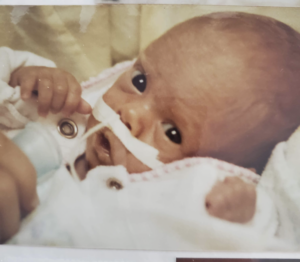 Tricia went through her ups and downs and, as her dad so eloquently wrote, there were facts to be stated and then feelings to be acknowledged. It was not an easy road, but each day she grew and became stronger. Her team of care providers watched in awe as she hit her milestones and moved closer toward the goal of maintaining her temperature, eating enough each day and gaining weight.
Her parents marveled as Tricia became her own little person with a big personality. As she grew, so did my attachment to this incredible soul that was so obviously meant to be in the world. Newspapers around the country captured her story with inspirational headlines. Her fame grew as write-ups were done on the world's smallest baby. A letter of care and congratulations came from President Reagan. On February 24, 1984, this courageous resilient little person was ready to leave the hospital and be placed in the arms of her family which had so eagerly awaited this homecoming.
Fast forward to this year, my rediscovery of the treasure found among the trash: a picture, of this baby and me. It is worth a thousand words. I decided to see if Tricia might be on Facebook and, sure enough, I found her. I sent her a detailed message, with the picture of her and me (so she would know I was genuine). She replied that she was, indeed, the same Tricia I cared for so many years ago.
We talked via Facebook Messenger for about an hour, and it was incredible. She shared details of growing up, updates on her family, and how her birth story shaped her life. I shared details of my nursing career, my family and how caring for her and her invincible spirit impacted my life. We agreed this exchange made both our days and that we will stay in touch.
I have been a nurse for 38 years and have cared for many patients, but there will always be an enormous place in my heart for Tricia. After our conversation, my husband asked me how it felt to know that I had such an influence in a person's life. I smiled and told him it took a village to get Tricia home and that I was just a small part.
Nursing, like many callings, can often leave you depleted and questioning. You sometimes wonder if the frustration, pain and sadness you witness is worth it. Then you talk to a young, kind, vibrant woman, who is making her place in the world and you are privileged to be reminded that you did indeed play an important part of something bigger than yourself. I am beyond proud to share Tricia's story, beyond proud to be a nurse.
"For I know the plans I have for you," declares the Lord. "Plans to prosper you and not to harm you. Plans to give you hope and a future."  Jeremiah 29:11
Julie Ruchniewicz
First Pres Parish Nurse