eNewsletter Feature Story – Week of April 18 – April 24, 2021
This week's eNewsletter feature
was written by Jim Teague,
FPCE director of communications.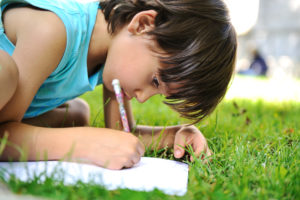 A well-crafted wish list is not only a work of art, it's a gateway to having your dreams fulfilled. I humbly (or, perhaps, not-so-humbly) submit to you that I used to be one of the all-time greats at creating wish lists for my birthdays and Christmas.
Back in the days before the internet, smart phones, and the over-abundance of one-size-fits-all gift cards we have at our disposal now, a wish list was a completely appropriate way to let those who love you know just how they could express that affection in ways which would be most appreciated.
I would scour the Sears toy catalog, the local sporting goods store's monthly mailer, or the advertisements in Boy's Life magazine in search of the perfect gift that was sure to change my life — if only one of my relatives would buy me just the right present. My lists were a thing of beauty, complete with descriptions, model numbers, prices, and store locations.
Because my parents were divorced, many of those relatives lived halfway across the country, and a well-chosen gift was their way of letting me know I hadn't been forgotten and was still dearly loved despite the distance. What can I say? We were a divided tribe of fully committed consumerists.
Even from a young age, I knew that unless I was specific about my wishes, I might get a miniature Major Matt Mason astronaut figure with a one-piece helmet, instead of the full-sized version with the working helmet visor, detachable EVA pack, and moon boots. And, of course, that just wouldn't do.
To this day, I still provide detailed wish lists to my mom before the holidays — though she has made it clear that these days it's my sons she wants to spoil. And that's fine with me!
This Sunday, Rev. Henry Coates is preaching from Acts 3:1-19, the New Testament story where Peter and John come across a lame beggar as they are heading to the temple to pray.
The beggar's method of seeking something is very different from what I am accustomed to. He asks for money, but, from what we are told, doesn't seek a specific amount or denomination. He doesn't get any money from them, and they don't ask him for a list of alternatively acceptable donations.
In fact, you might infer that they weren't interested in getting a list of wants or needs from the beggar at all.
But Peter said, "I have no silver or gold, but what I have I give you; in the name of Jesus Christ of Nazareth, stand up and walk." And he took him by the right hand and raised him up; and immediately his feet and ankles were made strong. Jumping up, he stood and began to walk, and he entered the temple with them, walking and leaping and praising God. All the people saw him walking and praising God, and they recognized him as the one who used to sit and ask for alms at the Beautiful Gate of the temple; and they were filled with wonder and amazement at what had happened to him. (vv. 6-10)
What Peter and John offered was far more valuable than the few coins the beggar had hoped he might get from them. It was life altering, and not just for him. God took the beggar's need, Peter and John's availability, and the past experience of those worshiping at the temple and brought them all together in one moment to change the lives of many who witnessed the miracle and heard their words.
Put another way, God's plan was far greater than the beggar's wish list.
Despite having walked with Jesus for nearly 40 years, I still struggle to see much further than my own hopes, dreams, and desires.
What's worse, I am often hesitant to share those same lists with God and ask his thoughts about how they might be reshaped to fit his plans.
Don't misunderstand me. I don't think God is at all perturbed or angered by my appropriate desires and my eagerness to see them fulfilled. Instead, I believe he wants me to meet his gaze in my times of prayer and realize he is fashioning plans to incorporate them all into the vast, perfect, eternal complexity of his overarching purposes.
Like the beggar, I want to come away from my encounters with him not just enriched, but radically changed into someone whose walk results in His receiving even greater, more appropriate praise. His is the master wish list I most long to see fulfilled.
We hope to be outdoors this Sunday at 10 AM in the First Pres parking lot. To attend in person, you can register here: https://onrealm.org/FirstPresEvanston/PublicRegistrations/Event?linkString=ODNhYTA2OTUtOGQ0YS00NTA3LWI1YjktYWQwOTAxMGQ1M2M3
The weather, at this point, looks as though it will be cold but dry, so we are hoping to kick off our string of outdoor services. You can learn more here and also find the links to where we will stream the service live from the parking lot.
We're looking forward to seeing you Sunday morning, in one form or another. That would be on my wish list for all of us — we'll see what God does.
Peace,
Jim Teague
FPCE director of communications