eNewsletter Feature Story – Week of March 7 thru March 13, 2021
This week's eNewsletter feature
was written by Rev. Henry Coates,
FPCE associate pastor.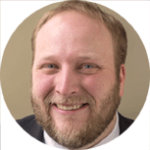 Dear friends,
Lent is all about remembering and repenting, as we with Jesus look towards the Cross that awaits him — and us.  It is, indeed, a "heavy" time.
We're coming up to the one-year anniversary of the day the world shut down. Where were you when this world of ours took a pause? When you first heard the phrase "social distancing"? When schools closed? When the church moved online? When life seemed to take a collective dark, anxious turn?
2020 was surely a hard year for me, and among the hardest years ever for many of you now reading this, whether or not you realize it yet. We are all walking wounded, still needing to process what we have been through as we begin to emerge, as we try to grasp what exactly just happened. In time, together as a church, we will process, heal, and come out stronger from all this — as your pastor, I promise you that.
One way we will process the hurt and confusion and start to heal is by sharing our stories with each other, the story of what 2020 was like, and what we are doing now as we rise up in 2021 and beyond. As we share our stories, we will look for those moments of transcendence, where we encountered God, where Christ met us, where we felt echoes of eternity amid our day-to-day living.
Today I want to share a bit of my perspective as a volunteer vaccine distributor with the Evanston Medical Reserve Corps.
I never expected to get involved in COVID vaccine distribution. I was raised to be civically minded, and my Christianity calls me to strive to be a good neighbor, but I didn't think I would have the opportunity to serve my community in this particular way. Having been chosen at random to receive an early dosage of the Moderna vaccine early in January, I stood in a long line outside, got my shot, and immediately asked how I could help. Two days later, I was checking folks in to get their own vaccines.
For the past six weeks and continuing till the job is done, I have been volunteering during my free time at the Levy Center here in Evanston. I have helped process thousands of people as they get their shots, mostly folks 78 years and older.  Let me tell you about one of them.
January 16, 1921.
That's what her government state ID read. She handed it to me with a long, pale, almost translucent hand. I couldn't see her lips behind her mask, but her eyes were smiling.
I paused. Not simply because the woman who I was helping to receive her second dose of the COVID-19 vaccine was a little over 100 years old.  No.  It was that date: January 16, 1921. That was my grandmother Jo's birthday, my father's mother. She died at the age of 71, back in 1992, when I was seven. She had a bad heart, and my father, who turned 71 this past November, always considered her death a crying, avoidable shame. I remember her as if in a mist, tears in the rain, a sweet, kindly, faded presence. Yet here she was, standing before me, receiving a vaccine that a year prior would defy the whole history of medical science.
I felt as though I was living through a miracle, a transcendent moment across the heavenly vale. But this wasn't my grandmother. This was just a woman with smiling eyes who happened to share her birthday, who I happened to be helping get a shot that would allow her to hug her grand- and great-grandkids again. As I helped her up from her chair, she asked me why I was crying. I couldn't get the words out. I just let her know I was overjoyed that I was able to serve her in this way, on that particular day. And, oh — Happy Belated Hundredth Birthday. Good things, I told her, good things happened on the 16th of January, 1921.
Sometimes God encounters you in ways you could never imagine possible. My prayer for you, my beloved church family, is that God grants you the grace to hear, the peace to feel, and the courage to see Christ working alongside you and within you — this very day.
Grace and peace to you, in the name of our Lord Jesus Christ, who died that we might live, and lives so that we might love.
Amen.
Henry