This week's eNewsletter feature
was written by Jim Teague,
FPCE director of communications.
Dear friends,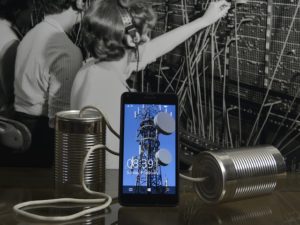 Did you ever do the "two tin cans and a string" experiment in middle school Science class? Maybe it was something you did on your own, instead, with a sibling or a friend to send secret messages or play telephone with one another.
In Science class, the whole point of the gadget was to illustrate the elements needed for sound to travel from one point to the next. The can being spoken into was the transmitter. The string between the two cans was the medium through which the sound traveled. And the other can was the receiver, which took the vibrations of the string and turned them back into sound.
One of the key lessons to be learned was the integral importance of all three elements: transmitter, medium, and receiver. Without any one of them, the message never gets through ("If a tree falls in the forest, and there is no one to hear it, does it make a sound?").
Another lesson taught with the tin cans and the string was how important it was that the string between the two cans was tight. The quality of the medium greatly influenced the quality of the message being received.
The church's celebration of Epiphany, the arrival of the Wise Men to come witness and worship Jesus, is a study in effective communications.
While this is most definitely open to interpretation, the model of the tin can telephone would seem to work like this:
The star, which hung in the sky over Bethlehem, would seem to be the transmitter, sending out the announcement of the birth of Jesus, the Son of God, the King of the Jews.
The wise men were the receivers. Their translating of the message made it clear to them and to others what was being said by God.
The medium, it would seem, was their straight, true, open hearts, earnestly searching for good news and for truth, open to what God would reveal to them.
3 Financial Reminders for the end of 2020
If you've pledged for 2021, thank you! If not, it is not too late to join us. You can pledge at https://firstpresevanston.org/giving/ .
As we come to the close of the year, remember to send in your gifts by December 31. This is the final date for your tithes and offerings to be tax-deductible for 2020. They must be submitted online or postmarked by today's date.
Finally, for those who are 70½ or older, I want to remind you of The IRA Charitable Rollover. This program is a unique federal provision that allows anyone 70½ years or older to directly make an outright gift from their IRA to First Pres or other favorite charitable organizations of up to $100,000, without paying income tax on the distribution. This is also known as a qualified charitable distribution.
With the beginning of 2021, one of the goals among the FPCE staff is to improve the quality of the messages we send to one another, the congregation, and to the community.
With the increased likelihood that we will continue to be gathering remotely rather than in person for some time to come, we are working to make sure that our communications are clear, accurate, and effective.
In order to achieve some of the goals set by session in 2019, it will be necessary to change our communications so that the messages we are sending are received well and clearly enough to motivate others to join us.
To that end, a number of changes will be taking place over the next few weeks and months.
The home page on the church website will be made more "visitor friendly" so we can make it more appealing and engaging to those who are not regular attendees and don't have as much experience with our church community as our members presumably do.
The eNewsletter (also known as "This Week at First Pres") will be reformatted to make it more effective as a communications tool. This will also likely mean segmenting some of what is included into other emails on a regular basis.
New online advertising campaigns have already begun and will be utilized throughout 2021. This is meant to increase the number of visitors we get to our website, and, in turn, invite them to our online worship services.
We are also looking into how we can best manage online events like adult education classes, small groups, and prayer gatherings. While many have found Zoom to be a good way to connect, others have not had as favorable an experience. We are looking at what kind of alternatives we might have.
The most important change has already started. and that is the institution of our new members' portal and record-keeping system, Realm®, which we moved to this past summer.
Janice Dobschuetz, our Administrative Associate, describes Realm this way:
It primarily serves the administrative needs of our staff, but it also offers some exciting opportunities to support the way members and regular attendees are involved in our church. Not only will this improve work life for our ministry staff, it will make it easier for our church family to connect with each other, keep up with what's going on, and grow as a connected community of believers.

Everyone in our church gets a unique profile. Your profile contains everything you want people in our church to know about you. Your profile also enables you to join a small group, RSVP to events, track your giving, update your contact information, change family details, set notification preferences, or replace that outdated family photo.

By keeping your information current, you are helping our staff, group leaders, and our church community. Your Profile includes:
Contact Information (e.g. name, address, email, phone)
Photo
Family Members
Personal Information*on (e.g. marital status, birthday**, etc.)
Connected Social Media accounts
*You can decide later what data you want to hide online by sending your privacy preferences.
**Feel free to enter your full birthday. The year and your age will not be displayed on your Church Directory profile.
Review your giving history or make new donations online or on your mobile phone. Simply sign in to look over your year-to-date giving, check pledge progress, print a contribution statement, or make a new one-time or recurring donation. It is always available and kept secure in an easy-to-use online environment.
Ways to Give
No matter how you choose to give toward our ministry, you can review all your giving history online anytime.
Check or Cash
Online Gifts (one-time or recurring)
Text Giving*
Pledges
It is critical that we get as many of our community as possible online with Realm. It will not only help streamline all the above tasks, but will serve as an excellent centralized communications tool, too.
If you are a member or giving non-member and would like access to Realm, please email Janice Dobschuetz at jdobschuetz@firstpresevanston.org.
Another change has also taken place in our Communications office. We have contracted with Ministry Architects to hire a Virtual Ministry Assistant to help with some of our communications tasks. Lindsay Zubal, who has significant experience in church communications and work with not-for-profit organizations, will be working with me to help with website management, eNewsletter creation, and social media. Lindsay actually lives in Chambersburg, PA, and all of her work with us is remote. You'll find a photo and some information about her in this week's eNewsletter.
Just like the two cans and the string, or the tree in the forest (God is listening), communication only works when all parts are engaged. As a church staff, we are so appreciative of the role each of you plays and how that role, in turn, serves the Kingdom of God.
May God's voice and message be crystal clear in 2021!
Peace,
Jim Teague
Director of Communications
jteague@firstpresevanston.org