This week's eNewsletter feature
was written by Kris Economos and Barb Spencer
on behalf of the Souper Saturday team.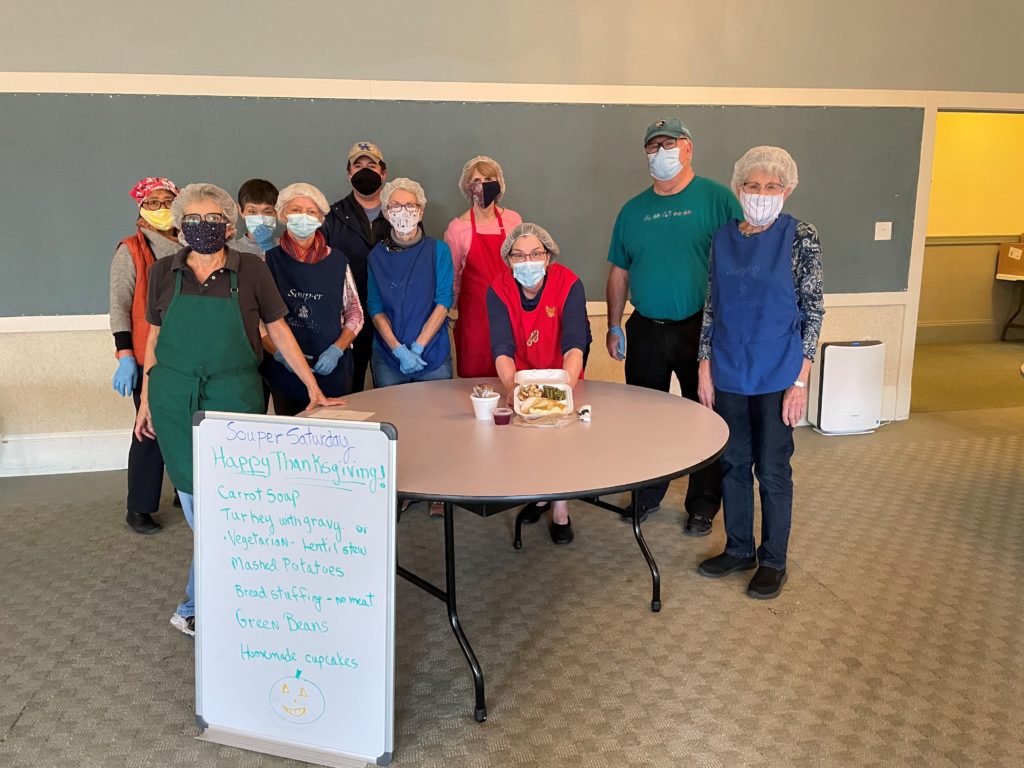 As many of you know, Souper Saturday provides lunch on Saturdays to those in need and has done so without fail since May 1983. Pre-COVID-19 lunch was usually a 3-course meal served in the dining room. Back then, our lunch guests were able to socialize, get a cup of coffee, snack on Panera treats, shop twice a month at the Deacons' Clothes Closet, and simply enjoy each other's company in a comfortable indoor environment. What some of you may not know is that Souper Saturday has been able to continue serving lunch during the pandemic.
Souper Saturday has endured some challenges over the years, but none as demanding as the 2020 pandemic. Beginning in early March we could see and feel the cloud coming over our guests and volunteers. Who among us didn't feel the weight of this microscopic virus? We knew our days for serving lunch indoors were limited. What should we do to stay safe? Should we take a break and, if so, what would happen to our guests? If we continued, how would we serve lunch? At the beginning, there were definitely more questions than answers.
Post-COVID lunch evolved from trepidation to "why can't we serve a "to go" meal?" That's how restaurants were beginning to serve. Thus, on March 21 our first "to go" lunch was served to 38 thankful guests at First Presbyterian Church, continuing our 37-year history. We served from the top of the outdoor ramp, using tables as a barrier and counter. Lunch was served: corn chowder soup, tuna sandwiches, chips and cookies neatly packaged and handed to our very appreciative guests. We have not missed a Saturday since and added extra meals beginning mid-April. These are delivered to at risk guests temporarily housed in hotels. Providing meals for these hotel guests is a significant effort led by Connections for the Homeless and supported by the City of Evanston and the Evanston Community Foundation.
As of December 12, we will have served over 1,400 guests at First Pres and prepared another 2,800 to go lunches for guests housed in shelters and hotels since those first "to go" meals were envisioned.
Now, with nine months of preparing and serving "to go" lunches behind us, we've affirmed what we already knew: We had our aha moment so to speak; our revelation. We are totally convinced none of this would have been possible were it not for a caring God.
These were some of gifts God provided to us and our clients:
Volunteers who steadily filled in for others who had to step back for health and family concerns.
Volunteers with the grace and courage to prepare meals, meet, greet, and serve our guests.
A church who–without reservation–embraced our plans.
The vision to organize and coordinate plans and then the patience to be flexible. We now fully understand the word "logistics."
Donations God provided when we least expected: Grants from the Greater Chicago Food Depository, contributions from neighbors across the street who saw our visible efforts serving the community, contributions from the church and volunteer community including two food drives and a third food drive from the Woman's Club of Evanston.
Introductions made by God on our behalf to other Evanston soup kitchens who now regularly report and share relevant details with one another.
Our existing and strengthened relationships with Connections for the Homeless and the Evanston Community foundation which resulted in the resources to temporarily house at risk community members.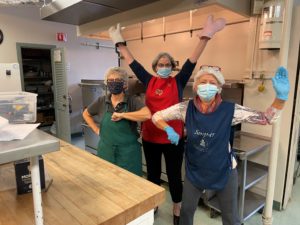 At times, when life takes what we perceive to be a wrong turn, one may think God doesn't care. However, we have come to realize God simply gave us a detour to a more scenic route, with a clearer vision of His care for us.
We are especially thankful we did not choose to temporarily close Souper Saturday. Week after week our guests are always so thankful. They often ask when they will be able to eat lunch inside? That day can't come soon enough for all of us, but until then we are thankful that we are able to do what we can and continue to count our blessings from our caring God.
The Souper Saturday Team