This week's eNewsletter feature
was written by Jim Teague,
FPCE director of communications.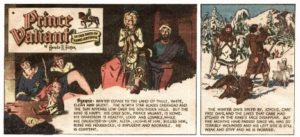 Dear friends,
Do you remember the comic strip Prince Valiant?
Created in 1937 by Hal Foster (who had previously created the Tarzan comic), it continues to be published in newspapers and online. The title character (complete with his famous bowl-cut haircut) is a Nordic prince in the time of King Arthur. His weapon is The Singing Sword, and, with it, the prince slays dragons, rescues damsels, and fights off all manner of Huns, marauders and ne'er-do-wells.
Through the course of the over 4,000 strips which have been published, Prince Valiant has grown from a young child to a grandfather. Along the way, he becomes squire (kind of an apprentice for knights) to Sir Gawain, one of the Knights of the Round Table who served under King Arthur.
Considering Scripture we'll be reading this week, I must say the Valiant character – in his steadfast character and personal growth in service – reminds me in ways of Joshua.
This Sunday, during our 10 a.m. online service, Pastor Ray Hylton is preaching from Joshua 24:1-3 and 14-25. Chapter 24 is Joshua's final word or last command to the people of Israel. I won't spoil it for you, but don't miss this message. It is full of power, wisdom, and God's heart for His people (epitomizing Joshua himself).
For me, Joshua is right at the top of the list as heroes of the faith go. He served faithfully under Moses, always nearby – as we heard last week – when Moses would meet with God. He strikes me as the "Prince Valiant" of the Bible, if you'll pardon such a lopsided comparison.
In Chapter 1 of the book of Joshua, he is installed as the leader of his people after Moses has died. God commands Joshua three times to "be strong and courageous." (Joshua 1:6, 7 and 9). In verse 7, he actually tells him "Only be strong and very courageous, being careful to act in accordance with all the law that my servant Moses commanded you; do not turn from it to the right hand or to the left, so that you may be successful wherever you go."
His people reflect back to Joshua what God has told him (just in case he hadn't totally understood the message). In verse 18, when he reminds them of their responsibilities to God, they remind him of his need to be strong and courageous.
Like any good leader, he takes what he has learned and gives it to those he leads. In fact, the people of Israel are reminded again in Chapter 10 that they, too, are meant to be strong and courageous.
For purely worldly reasons, it's difficult for me to think of Joshua as a wise, elderly man of God. I confess that I continually find myself thinking of him as he was portrayed in the Cecil B. DeMille classic movie The Ten Commandments (as played by John Derek). DeMille's movie version takes plenty of liberties with the Biblical story, casting Joshua as an athletic, impetuous stone cutter who rescues old women and fights behind the scenes for those he loves. Much more a dashing contemporary "action figure" than a contemplative guide and ancestral example.
But just as Jesus needed to tell the Apostle Peter three times to shepherd those who would make up the church, God knows Joshua's true heart and continually exhorts him to be strong and courageous, to be the man that Israel needs him to be.
I want to be strong and courageous, leading others to Christ and standing in the gap for those who are feeling distant from God. And yet — not always, but too often — I shrink back, either because I lack the strength to persevere in generosity, service, and prayer, or because I allow my fear and self-consciousness to overwhelm my zeal.
Fortunately, I have the Scriptures to turn to, reminding me that God has made a way for my weakness and fearfulness, and that the Holy Spirit is there for me – and for all of us – to convict me, lead me to repentance, and restore me, giving me more opportunities to be strong and courageous in His name.
I hope to see you in the Chat column at online worship on Sunday morning at 10, or at the outdoor service at 4 p.m. (register here if you are coming to save time standing in line).
Peace,
Jim Teague
Director of Communications