This week's eNewsletter feature
was written by Rev. Amanda Golbek,
FPCE minister of children and youth.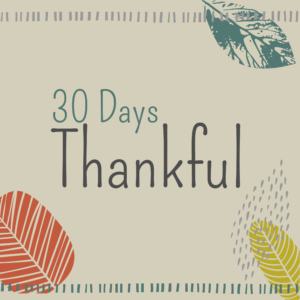 Dear friends,
I don't know about you, but I am finding it hard to believe that we are just a few days away from November 1st. Time so often seems to drag on — while also disappearing in the blink of an eye.
When I think back to a year ago, I remember the many things that we as a church were planning for the month of November. From the Thanksgiving Refugee Dinner, to the Explore Advent workshop, there was a whole list of events, Bible studies and activities that launched us toward Thanksgiving and Advent. This year — well, this year, things are different.
COVID-19 is still making people sick and taking people's lives. Schools are still mostly remote, group activities are limited and gathering outdoors year-round is becoming a new norm. Many of us would love to Fast Forward and wave good-bye to 2020 a couple months early. This Thanksgiving season, it might be easy to think there isn't much of anything to be thankful for in 2020. We can find ourselves creating quite the list of all the painful, frustrating, or disappointing things from this strange year as it winds down.
I guess that's the central question that we might be called to pray about now: What is there to be thankful for in this year? Or, for a starter, is there anything to be thankful for this year? At first, it may seem like the answer is a resounding No, but if we pause to reflect and pray, we might be surprised by the ways in which God has shown up in our lives and world.
For the month of November, we are going to be providing an opportunity for all FPCE members and friends to spend time exploring what thankfulness means to you. We will offer a daily devotional accessible on social media and through email (you can sign up here), that will help us reflect on the many ways that we can lift up our thankfulness to God. While 2020 has been tough, and has caused us to face many challenges, it has also offered us many things to be thankful for.
Pastor Henry and I would never want our son Jacob, born this Spring, to think of this year in any light that didn't shine with the God-given joy of his birth and healthy, happy infancy in 2020.  A living reminder for us of the true Light that shines in any darkness.
As we enter the month of November, let's begin by opening ourselves up to the spiritual practice of thankfulness.
Come to worship in thanks this Sunday online at 10 AM or, weather permitting, at 4:30 PM in the church parking lot. Pre-register with the church office or at the lot entrance – all state health protocols are observed, bring your own chairs and blankets.
Amanda Golbek
Minister of Children & Youth