This week's eNewsletter feature
was written by Rev. Raymond Hylton,
FPCE senior pastor.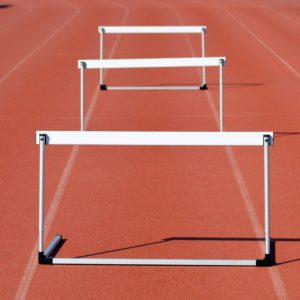 Dear friends,
Millions of people worldwide watched the 2012 London Olympics, where American hurdler Lolo Jones was one of its brightest presumptive stars.
Even before vaulting over any of the ten hurdles in her 110-meter race, Lolo Jones was big news in the coverage and heavily favored to win. She didn't. Lolo came in a disappointing 4th place.
During a TV interview the next day, her voice cracked with emotion as she defended herself from bitter comments made in the NY Times that she was a mediocre athlete.
Describing her commitment and work ethic, she said, "I worked six days a week, every day, for four years for a 12-second race."  Imagine that!
What would possess someone to give so much for such a small and fleeting slice of life? It could be fame or money, but I think she was motivated by love for her sport in pure athleticism. Pure love. Devotion.
Thomas a Kempis, in his book, The Imitation of Christ, said, "Love feels no burden, thinks nothing of trouble, attempts what is above its strength, pleads no excuse of impossibility; for it thinks all things lawful for itself, and all things possible."
I Corinthians 13, the great chapter on Love, says that a day will come when everything will pass away, but only one thing will remain — love. Among all things on earth, the greatest of these is love.
Jesus said the most significant thing we could ever do is love God with every fiber of our being and love our neighbor as ourselves.
It comes as no surprise that the last chapter of John's gospel explores disciple Peter's love and priorities.
In a scene rare to the Gospels, Jesus showed his men his culinary skills. He took some fish and prepared breakfast for his hungry disciples. With the meal consumed, the morning fire's embers dying, Jesus leans forward and begins talking to Peter: "Do you love me more than these (153 fresh-caught fish wriggling in the net)?" (John 21:15)
A most deeply piercing question: Peter hadn't seen Jesus since the night he denied him three times.
There is a lesson here for us: Love comes before service and reward — Love suffuses and drives service, provides true reward in return. Jesus did not ask him, 'Peter, do you love my sheep?' or 'Peter, do you love to teach or preach?' Jesus did not ask him about the latest synagogue meetings. He asked him, "Do you love ME?" Love comes before everything.
Another way to say this: Jesus was more interested in the being of Peter before he gave him his job as a fisher of men, before he prospered him with life eternal. Being comes before doing. And God's Love has brought all things into being.
Do you see a connection? This Sunday, we submit our pledges to support the ministry of Jesus Christ at First Pres. The real measure of our giving is not the pledge's size but the size of our love for Christ.
In preparation for Sunday, read Exodus 35:21 and notice the people's motivation for giving to the Lord: And they came, everyone whose heart was stirred, and everyone whose spirit was willing, and brought the Lord's offering to be used for the tent of meeting.
Let your pledges be an outward sign of Christ's love for us and our love for Christ.
With joy,
Pastor Ray
Photo by Interactive Sports on Unsplash