The Possibilities of Peace
This week's eNewsletter
feature story is written by
Caryl Weinberg, FPCE Director of Mission
"If possible, on your part, live at peace with everyone."
– Romans 12: 18
Dear friends,
These past few weeks we at First Presbyterian Church of Evanston have been focusing on the theme "Filled Up: Poured Out", drawing from Chapter 12 of Paul's letter of encouragement to the Romans. We, too, are encouraged to be so filled up with the Holy Spirit–with God's love and grace, with one another's gifts playing their part in our lives–that we can't help but pour ourselves out for each other, for the stranger, and even for the enemy. We are called to "If possible, on your part, live at peace with everyone." (HCSB)
I was thinking about this when I received an email a few days ago about the upcoming virtual gala for Dar al Kalima University in Bethlehem, and the celebration of the 25-year anniversary of its founding. Its founding began back when there was no wall between Israel and Palestine. Its existence has continued through the occupation of Bethlehem, through the destruction of the stained-glass windows in churches, through war, and through the ever-increasing losses of land and freedoms. And now even through COVID-19. And yet Dar al Kalima, by God's grace, has grown from a vision of a few classrooms and teachers in the basement of Christmas Lutheran Church, to a University on a hill, filled with students of Muslim and Christian backgrounds, and blessed, most recently, with a beautiful new public garden. Its students are young men and women seeking hope and working to find productive ways to live at peace with everyone.
Norm and Alice Rubash were at the opening of Dar al Kalima in the basement of the church 25 years ago. They had met Rev. Dr. Mitri Raheb, President of Dar al Kalima and Bright Stars Bethlehem, at a gathering in Wheaton and brought him home with them that night because he had no place to stay.  They poured out the kind of hospitality Pastor Ray preached about last week. Eventually, that connection led the Rubashes to Bethlehem for a brief time of study and learning. It also led to Alice and her family pouring themselves out again through the "planting" of the new garden and patio at the university there in Norm's memory. The result is one of the few green spaces open to the public in Bethlehem.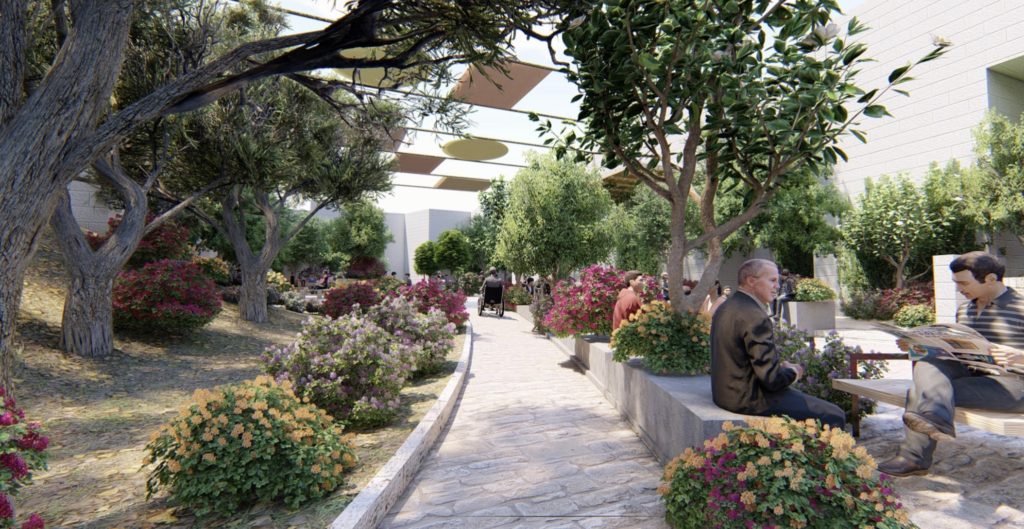 Garden Patio Dedicated in Honor of Norm Rubash, September 2020
The "Be the Key" gala that is coming up is open to everyone online at no charge. Though Bright Stars is hoping to raise funds for the University, I encourage all of us to sign up whether or not you can make a  gift. We will hear from Rev. Mitri, as well as two of the students of Dar al Kalima. There will be a few shout outs from notables such as Rick Steves.  But it will last just under an hour.  So do register and set aside the time to join the online celebration, Saturday, October 24, 7 p.m. Chicago time.
Learning about what is happening around the world to our brothers and sisters is a way for us to pour ourselves out. The Lord will use it to "renew our minds" at least to pray for and with them. And maybe we will even learn from them how to "live at peace with everyone."
Please join us this Sunday morning, too. Pastor Ray will be preaching the final message in our "Filled Up; Poured Out" series during our online service at 10 a.m. at https://live.firstpresevanston.org.
In Christ's Peace,
Caryl Weinberg
Director of Mission