Online or In Person: First Pres Is Open
This week's eNewsletter
feature story is written by
Rev. Raymond Hylton, FPCE senior pastor
Dear friends,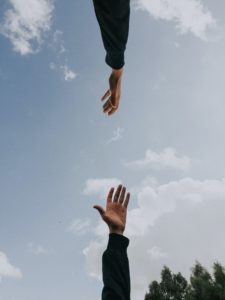 On my way to the office a few days ago, I saw a large sign in front of the Immanuel Lutheran Church on Lake Street: The Building is closed, but the church is open.
Despite the virus's impact on in-person worship, these believers want Evanston to know that the Church of Jesus Christ is fully and actively alive.
"Pastor Ray, when do we return to in-person worship?" is a question that many are asking me.
Behind the question is an implicit assumption that online worship is nice, but it is not enough. Along those lines of thought, I have been assessing the values of online versus in-person church.
What do we gain from online church? What do we lose?
Online, we gain levels of creativity that would be difficult to replicate when on-site, in-person. We gain a wider audience — being online makes us a bigger, more accessible church to people around the nation and world. Unlike in-person worship, once the online service ends, it is preserved online forever. In other words, the recorded services can continue reaching people almost in perpetuity. At bottom, let's face it, the online service is also convenient: No getting dressed up, getting the kids ready, driving the car to 1427 Chicago Ave. — First Pres is just a click away.
But we also have to ask, what do we lose?
We lose the physicality of what it means to be the church: seeing each other, greeting each other, listening to instruments and voices praising God in real-time spontaneity. We lose the human imperfections, endearing gaffes, that occur when people worship together. With online worship, it is difficult to know who is present and who is absent. When we are together in person, we know where each person sits; when that space is empty, people tend to reach out, "Where are you? Are you OK? We didn't see you in church today." Clearly, there are some important, tangible, in-the-flesh gifts that in-person worship offers that just can't be "with us" online.
What are we to do? The lethality of the novel Coronavirus is unquestionable; it's become a daily fact of life — and death. What I ask of you is patience. We are still the church. Yes, we have given up some things by being online, but we have also gained other things. Please be patient as our church Elders wrestle with the timing for reopening. It is possible that we may not reopen in 2020.
Session had long hoped to reopen in October. In order to do in-person worship safely, though, it was determined we needed the minimum of a 12-member volunteer team to help us provide a safe environment. Based on your survey response, we only heard from seven prospective volunteers. We simply cannot move forward without a larger level of support. To clarify these prospects, please, if you are able to be on this team, and you have no complicating health conditions, do reach out to me and let me know.
On a brighter note, I also want you to know that we have developed safety guidelines for reopening the building in the next few weeks for small groups to use our space as long as they agree to abide by our soon-to-be-published guidelines.
For this Sunday, I ask that you join us in worship online. The Scriptural text for the day and for our series, Filled Up, Poured Out, asks us to live according to 13 Spirit-led practices. Read them, and you will find that whether we are online, or in-person, we can still be the church. The five verses from Romans 12:9 to 12:13 contain these 13 exhortations:
1) Let love be genuine.
2) Abhor what is evil.
3) Hold fast to what is good.
4) Love one another with mutual affection.
5) Outdo one another in showing honor.
6) Do not be slothful or lag in zeal.
7) Be fervent in spirit.
8) Serve the Lord.
9) Rejoice in hope.
10) Be patient in tribulation.
11) Be constant in prayer.
12) Contribute to the needs of the saints.
13) Seek to show hospitality.
So, practicing our faith in this way — whether we are online or in-person, whether the building is closed or open — we can be the church to each other. Our building is closed, yes, but Jesus's church is alive and open and active in all of our lives.
Grateful to be your Pastor in this season,
Pastor Ray
Photo by youssef naddam on Unsplash