This week's eNewsletter feature
was written by Jim Teague,
FPCE Communications Coordinator.
Dear friends,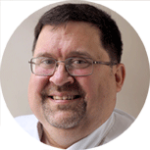 My fantasy football draft was Tuesday night. If you are not a sports fan and don't know what fantasy football is (and you are worried I'm going to drone on and on about highly paid professional athletes and the games they play), stick with me, please, and I will do my best to make it worth your while.
A fantasy football draft (for those of you who are still with me and don't know what I am referring to) is essentially a gathering of individuals who are competing to choose a fictional team of the best football players they can. Each member of the league has a fixed budget they can spend in order to select 15 players. Then, over the course of the NFL season, the weekly statistical performance of those players will result in points accruing to the team that chose them, and, once it is all over, a champion will be crowned. Our league doesn't play for money, but rather for pride (though we usually pay for the winner's dinner at a get-together sometime in January).
At the draft this week, each team owner/league member is (I was!) trying to be the best at evaluating the talent and predicting the future success of other people in their chosen professions over the course of the next few months. We have no influence over their performance, and, ultimately, their success or failure will have little impact upon those of us in my fantasy league. And yet there we were, laughing, mocking one another, making fun of each other's choices, and anxiously hoping our favorite players would still be available at a price we could afford. Sounds ridiculous, doesn't it?
But, alright, enough about sports (for the moment, at least).
Last weekend, I found myself reading about a former colleague of mine who came into the profession of journalism right about the same time I did. We came from generally the same socio-economic background, both had Bachelor's degrees when we started, and both moved up through the ranks of our company at about the same pace for the first few years.
Today, he can be heard regularly on Public Radio here in the Chicago area, usually as a featured correspondent during the afternoon rush hour programming. I won't tell you his name because we're not in touch much anymore except through social media and I don't have his permission. But he is a wonderful writer and journalist, and his third book is about to be published.
Reading about his accomplishments, I found myself, for maybe five minutes, doing some pretty impressive mental gymnastics as I wrestled with feelings of inadequacy, disappointment, and failure.
And then God, I believe, gave me a nudge. Usually when God nudges me, it is gentle, subtle, like a friend brushing up beside me. This was something more like an elbow to the ribs.
I had evaluated, from great distance and with a limited amount of information, my former colleague's professional success. Not only that, but I was making a judgment – again, without any recent information to back it up, or a crystal ball to determine the future – that he was going to somehow end up happier, more satisfied.
I was comparing my life with his. My life.
But it isn't my life. God's nudge reminded me that, late at night on a Friday in September of 1981, I gave my life away. I gave it to him. Best "trade" I ever made, though I hardly knew it at the time.
As I sat on the floor of my college dorm, I told God that I was his to do with as he pleased. I can say with absolute certainty that I had no sense of what that meant. I mostly just wanted him to give me good things and a happy life. In exchange, I would be nice to people and carry my Bible around with me whenever it was convenient.
I am sure I mentioned to him that I wouldn't be very excited about being sent to any jungles on his behalf; I've been to Africa three times and to the Amazon basin, too, all with Christian outreach teams. After graduation, I explained to him that I would rather not live in the Great Lakes region but would instead like to move someplace warm and exotic (I recall thinking about someplace like Morocco); aside from six months in California, I've lived in the Chicago area since 1988.
It would be disingenuous of me if I failed to mention here the countless times I've tried to either assert my own will (did I mention I moved to California without a job waiting for me there?), prioritize my plans over his (I've tried three times to move overseas to do full-time ministry), or just plain sinned outright in direct disobedience to what God was directing me to do (you don't need to know those details).
Proverbs 16:9 says:
The human mind plans the way, but the Lord directs the steps.
This Sunday is "kick-off Sunday" for our Filled Up, Poured Out sermon series, running for the next couple of months.
Rev. Henry Coates will be teaching from Romans 12:1-2, which says:
I appeal to you therefore, brothers and sisters, by the mercies of God, to present your bodies as a living sacrifice, holy and acceptable to God, which is your spiritual worship. Do not be conformed to this world, but be transformed by the renewing of your minds, so that you may discern what is the will of God — what is good and acceptable and perfect.
In his letter to the believers in Rome (that sounds warm and exotic, too, God), the Apostle Paul makes it clear that our lives, our bodies, are given in sacrifice, and in return we are given discernment to know God's will.
During this time of uncertainty, disappointment, and isolation, knowing God's will sounds like an amazing gift, and, frankly (for me, at least, given the current state of my body), an absolute bargain. Frankly, it's a miracle: I (we) can grow in knowledge of his will through the worshipful act of giving my life over to him. Daily. Again and again.
Okay, back to sports one last time.
At our fantasy football draft this week, we realized that there is no guarantee the season will go a full 16 games. The NFL season begins tonight, but for all we know it might not even make it to the second week before the games have to be postponed or maybe even cancelled. We decided that, no matter what, the fantasy team with the best record and most points at the point where the season ended would be crowned the winner. Free dinner and all.
All the crafty, brilliant, kidding cogitation and maneuvering of draft night, we can toss it in the air like a deck of well-played playing cards — great game, however it ends.
Our lives are kind of like that. We don't know if we have a day or 50 years and a day before we're called home to be with Jesus. Where we do know the Father has "prepared us a table."
I am going to be working to spend less of the time I have comparing the scorecard of my life (oops, the life I gave to God) against those of others.
Have a blessed weekend, and we will see you online at 10 a.m. Sunday, and in the parking lot at 5:30 that afternoon.
Peace,
Jim Teague
FPCE Communications Coordinator