Backpack Project – COVID-19-style
This week's eNewsletter feature
was written by Bev Bolsen & Dave Jones,
FPCE Deacons.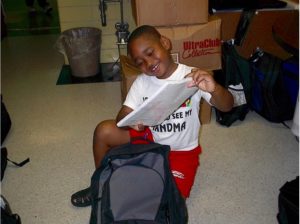 Dear friends,
This year's Back-to-School Backpack project is underway! You can almost smell the fresh erasers and pencil lead – if your take off your mask, anyway. This year, though, the Deacons will be going out and doing all the shopping, in partnership with Northminster Presbyterian, with First Pres buying new school supplies for 36 students in need of assistance through Family Focus of Evanston. Northminster will be providing supplies for students 1st through 5th grades, and we are shopping for 6th through 12th graders this year.
As usual, a faithful member is providing all the backpacks for the project, but not much else about this endeavor could rightly go under the rubric of "usual." While Deacons will be doing the actual shopping, we will very much rely on our congregation to step up and help us defray the costs, some of which can be considerable: High school "graphing calculators" of the type preferred by ETHS educators are selling at two levels between $85 and $110. Even with less expensive calculators included, 6th-8th grade shopping lists can easily total up to $60-$70 apiece on average. So…
So, we are making a most unusual ask:  As Deacons are operating on a budget solely supported by plate offerings on six Communion Sundays each year, this is a clear call for our brothers and sisters at First Pres to step up and make special online contributions to our fund: Easy to do, just go to our church website, firstpresevantson.org, click on the Giving button up at the top right of the screen, click on the new Giving Portal button, pull down the selection BACKPACK PROJECT from the drop-down fund menu, and fill in the short Contribution form. If you have no access to digital technology, please consider writing a check to First Presbyterian Church with Backpack Project signified on the Memo line.
Yes, this is a far cry from the typical end-of-summer "back to school" feeling of wandering store aisles filled with shiny new school things (and all our old school memories to go with them), but we as Deacons are thankful we once again have the opportunity to help schoolchildren in our community get off to the best start possible toward a productive year and a brighter future.  Even if schooling at home, they'll have all the right tools ready to dig in and learn.
Thanks be to God.  With a little help from His friends at First Pres.
Bev Bolsen & Dave Jones
Deacons