A Time for Justice, Kindness, and Mercy
This week's eNewsletter feature
was written by Rev. Raymond Hylton,
FPCE Senior Pastor.
Dear friends,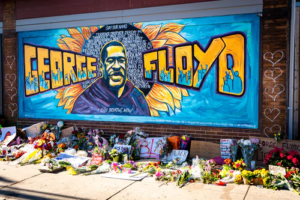 Within minutes of the death of George Floyd at the hands of four Minneapolis police officers, deeply shocking video footage of his death emerged on social media, seen by millions of people in America and around the world.
I couldn't watch the video. In my mind, it stirred images of lynchings that were commonplace 100 years ago in the South. Back then, people came out and attended these grisly events with glee and delight — they brought picnics.
Today, we are seeing, people show up not to celebrate, but to demonstrate, mourn, and protest this killing as unjust, as murder most foul.  You know, we sometimes accuse our young people of being self-absorbed, but, looking at the people leading the protest against Mr. Floyd's cruel and unjust death, those leaders are predominantly our youth.
No-one deserves to die with their face pressed into the asphalt, both hands cuffed behind their back, a knee pressing into the back of the neck, while begging — actually begging — for life and breath. But that's what happened on the Memorial Day evening of May 25, in George Floyd's Powderhorn Park neighborhood.
His death signals that America's sad legacy of racial injustice still festers, now a re-opened wound, in need of deep healing and forgiveness for its treatment of people black and brown.  His death, and the recent deaths of others (Eric Garner, Philando Castile, Tamir Rice, Sandra Bland, Ahmaud Arbery, Breonna Taylor — just to name a few), send clear signals that the Church in America has much work to do in helping to heal the wound and cover the wide racial divide.
Your pastor is a descendant of slaves taken to the Caribbean Islands four hundred years ago. I deplore and reject George Floyd's death with every ounce of my being. And I urge every Jesus Follower to join me in doing the same.
Here at home, I love our church because of its commitment to be a lighthouse shining the love of Jesus in Evanston, Chicago, and around the world. I love the diversity of our congregation, our staff, and our commitment to give and serve the least, the last, and the lost. By the Grace of God, I know we will continue doing our part.
And we will do that by rejecting passivity. Take action! Yes, now is the time. If you are able, join in peaceful protest.
If you are able, write to your national and state legislative representatives. Demand that our police officers fulfill their duty by treating black and brown people with fairness and justice under the law, without partiality to skin color.
Sign the petition for George Floyd.
Some of my brothers and sisters will see this as a "secular, political matter" that Christians should avoid. I beg to differ. The Gospel of Jesus clearly calls us to stand on the side of the weak, the dispossessed, and the poor.  "Then Jesus went about all the cities and villages, teaching in their synagogues, and proclaiming the good news of the kingdom, and curing every disease and every sickness. 36 When he saw the crowds, he had compassion for them, because they were harassed and helpless, like sheep without a shepherd" (Matthew 35-36).
Finally, I urge you to pray. Pray as action, pray as you go. Pray that God would heal our land, give wisdom to all our leaders, and by the Spirit's power seek and make peace in our streets and communities. Pray for political leaders who threaten their fellow citizens with deadly military force. Pray for those opportunists who infiltrate these lawful, peaceful protests for evil purposes, whose looting and firebombing distort the message for systemic change and justice for George Floyd.
But, amid the present smoking rubble of rage and mistrust, in the fog of fear and anger, believers still have reason to hope. For we know Jesus Christ, the ultimate victim of injustice, who suffocated to death on a cross for sinners — we know He will return to right every wrong, and who, in the meantime, empowers us to model self-giving love in a sad and desperate world.
I urge you to do so.
In Christ,
Pastor Ray