Pentecost – Wherever You Are
This week's eNewsletter feature
was written by Rev. Henry Coates,
FPCE Associate Pastor.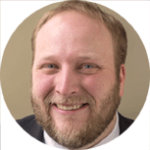 Dear friends,
I hope you all are well. Tuesday evening, during our monthly Session meeting, we prayed for all of you, scattered wherever you may be in the world, holding you in the love and light of Christ. And Session made a hard but necessary decision to continue with virtual worship for at least the next three months, as we continue to live through our COVID-19 Spring and Summer.
 In worship of our God who loves and prospers us, our number one concern in this matter is the safety of our congregation. In our desire to reopen our sanctuary and church building with wisdom and discernment, a congregational task force is forming to offer recommendations to Session on how best to go about this. Toward this end, meanwhile, we will continue to worship together online — separate in the flesh, but united by the very Spirit of God.
 That being said, I must say it is hard being apart from one another. Human beings were created to enjoy the company of one another, and the Church is formed to worship God together in one voice and spirit. Yet, as we deal with the current reality of separation, I think the miracle of the first Pentecost can remind us that it is not we who create community — no, the Holy Spirit creates community, gives birth to the Church, and binds us together in strength even now to live as witnesses to Jesus Christ.
 I invite you to go look up and read Acts 2:1-13. The first Christian Pentecost was a transforming event. The important thing about this amazing Pentecost is not simply the coming of the Spirit that allows us to speak with one voice.  The important thing about Pentecost is not that people could magically understand one another's languages when before there was only a babel of confusion and chaos. The living miracle of Pentecost is that the power of the Holy Spirit empowers us to proclaim and preach and witness to the Risen Lord, Jesus — to all people, in all places, in all situations. The Spirit has come so that we might LIVE Jesus, so that others might see through us — through our words, through our actions, through our very lives — that Christ is Risen, that Christ is Lord, and that everything has been transformed.
 By the power of the Holy Spirit, we preach to our world, to the cities of Evanston and Chicago and our American nation, through our lives.  Our witness is not simply with words, but with how we live in relation with others.  The Spirit must be allowed to work through us, to shine brightly in all we do, even in times of great suffering and sorrow. We must allow the Holy Spirit to blow into our beings and transform everything about us and our communities. We must allow the Spirit to do work, and not doubt the power of God to do a mighty work here, here and now, in this place, even in the midst of our great pestilence.
 Never forget, this is the same Spirit that hovered over the waters of Creation; the same Spirit that breathed life into Eve and Adam in the Garden; the same Spirit that spoke through Moses, Isaiah, Jeremiah, the Prophets, and the Psalmists when they preached Liberation and Judgment and the reign of God. This is the same Spirit that breathed life into the dusty, old dry bones that Ezekiel preached to.  This is the same Spirit that descended upon Jesus in the form of a dove when John baptized him, when God the Father said, "This is my Son, whom I love" — the same Spirit that raised Lazarus from the dead, same Spirit that was with Jesus up on the cross that brought us salvation! 
 This same Spirit came to the Apostles at Pentecost and gave birth to a Church that is meant to embody Jesus Christ and proclaim His resurrection from the dead!  This is the very same Spirit that has empowered faithful Christians throughout the centuries to live lives of Resurrection. Yes, this is the Spirit that lives within you. And it is this same Spirit that makes us the Church, and unites us in grateful worship in a time such as this.
 God bless you, friends. Looking forward to worshipping with you in Spirit and Truth this Sunday.
 Pastor Henry