New Life – and Faith – in a Pandemic
This week's eNewsletter feature
was written by Rev. Henry Coates,
FPCE Associate Pastor.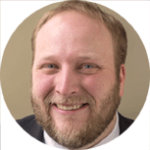 Dear friends,
Jacob David Golbek Coates was born five minutes after midnight on the morning of April 27. The journey to his birth did not go as expected, but as a good friend of ours at First Pres once said to me, "Nobody's birth goes as planned."
Someone once said that joy is gladness not based on circumstances. When Pastor Amanda and I found out that she was pregnant, back in August of last year, joy was our overwhelming emotion. Under the circumstances of our world way back then, our gladness was abundant. When Jacob finally appeared, that prevailing joy remained, but the world of August 2019 looks and feels much different than the reality of our COVID-19 spring.
If the "Joy of the Lord is our strength," then, why am I feeling so weak at times these past couple of months? I need a savior — I require a shepherd, now more than ever.
So what does it mean that the Lord is our shepherd? I've been thinking on this question ever since I realized that Pastor Amanda would give birth in the middle of a pandemic.
The last six weeks of her pregnancy saw us cut off from friends and family and our beloved church community. When Jacob decided it was time to come on out, both of us were filled with anxiety about going to the hospital, but I will report that — once there — I felt completely safe in Evanston Hospital. Yet her labor was hard, and there was a moment in the midst of the process when I deeply feared that I might lose both my wife and my yet-unborn child. Where was God in that moment? — as nurses and doctors in full PPE stormed our hospital room, bells and whistles blowing, with their primary concern being tending to my wife but with the underlying elephant in the room being the fear of the novel coronavirus?  In my fear, all I could do was recite the first few words of the 23rd Psalm, because, frankly, that was all I could remember.
What does it mean that the Lord is our shepherd when the world seems to be collapsing around us and we are afraid we might lose everything?
The Bible makes five assurances that I hold onto every day, as they give me great comfort. In the midst of the storms of the moment, it can be hard to hold onto the promises of God, but I implore you to do so, always to remember:
God promises us that Jesus is "Emmanuel," that is, "God with us."
God assures us that Jesus is the good shepherd "who lays his life down for the sheep."
The Bible tells us that the Lord is our shepherd, and therefore we shall not want.
Paul reminds us that "nothing, not even death" will separate us from the love of God in Christ Jesus for us.
And Jesus tells us that he will be with us always, even to the very end of the age.
These promises faintly echoed through my weary, worried head during the long days of labor, but they resounded as I held my son for the first time and gazed at my exhausted wife. And, as we continue to honor the Stay at Home order, I keep them close to heart.
But here's the thing: Holding onto the promises of God does not mean that you will not experience fear, that you will not have moments of anxiety. What does it mean that the Lord is our Shepherd? It means that Jesus will lovingly tend to us, even in the moments when we are feeling lost. When we walk through the valley of the shadow of death, we will fear no evil, for the Good Shepherd is with us, and will comfort us, and will never leave us. Though our faith may waver, the Good Shepherd remains steadfast and true.
I miss you all. You are all in my prayers. I don't know where, and I don't know when, but, as the old song goes, I'm sure we'll meet again some sunny day. In God's good time, we shall worship the Lord together, face to face, side by side, singing the praises of Jesus with one voice.
In the meanwhile, take care friends, and God bless. 
Pastor Henry