Prayer in a Time of Distress
This week's eNewsletter feature
was written by Rev. Raymond Hylton,
FPCE Senior Pastor.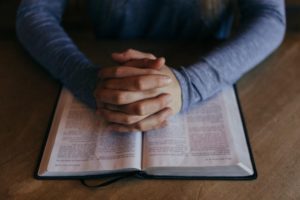 Dear friends,
Like many of you, I'm sure, my inbox overflows with unsolicited tips for how to survive the many challenges posed by COVID-19.
Tips for what to eat — or what not to eat.
Invitations to webinars and Zoom conferences. Advice on which series on Netflix to binge-watch, and — to get me off the couch — advice on home-based exercises to remain physically fit.
In my pastoral world, I am getting tons of advice on how to lead through a crisis. Lately, the advice pouring in is how to prepare the church to reopen.
Sadly, I hardly ever see resources on how to pray and spend time with God during these stressful times. How about you? What insights are you getting about prayer?
From the beginning of 2020 – before the spread of the virus — I decided to center my soul on two main practices: Scripture reading and prayer.
At the end of 2019, I decided to no longer read Scripture on my electronic device. The reason? My concentration was rather shallow. Digital reading seemed more like a "skim" than a true in-depth read.
So, now, I have turned back to the "old-fashioned" way.  Now I pick up a copy of my Bible, I read, take notes, and then pray. I keep a prayer list of people's names, and situations in those people's lives.
I pray for our church, our nation, and the world. I pray for my family, and friends around the world.
I am by nature an early riser, so in the stillness of the morning, I go to a small, quiet space in my house, and, along with Judith, open up the Bible, read four to five chapters, and then spend time praying.
Why do this? Because what we spend time doing eventually becomes a consuming habit. I don't want to "kill time" or kill my brain watching TV. I don't want to spend my time fretting and fuming over the state of my life, the condition of the church, or news of the world. After all, when did fretting solve anything?
We are now in the Psalms. There, the words of David touched my heart this morning, where he says when we pray we delight in the Lord: "Our delight is in the law (or the word/instruction) of the Lord, and in his law we meditate day and night" (Psalm 1:2).
The result of such slow and steady walking and listening with God is pure joy. The Scriptures reveal the nature of God as holy, just, creator, provider, protector, joy-giver, lover, full of mercy, grace and forgiveness. As it was with David, I find it is with me: The joy of knowing the Lord is my strength.
I can truly say, with David, "You have given me greater joy than those who have abundant harvests of grain and new wine. In peace I will lie down and sleep, for you alone, O Lord, will keep me safe." (Psalms 4:7-8 NLT)
On Wednesday, May 13, we will gather once again on Zoom to pray. Please consider joining us. Come join us beside the still waters. Prayer is the most effective and refreshing way to navigate our present circumstances.
In Christ,
Pastor Ray Hylton