This week's eNewsletter feature
was written by Rev. Raymond Hylton,
FPCE Senior Pastor.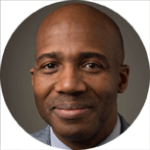 Dear friends,
One of the things I will miss most this Easter Sunday is hearing you all sing "Christ The Lord Is Risen Today!" and the Hallelujah Chorus at the end of the benediction. But Christ IS risen, and, as a matter of fact, we will sing these songs, just not as a community gathering at the corner of Lake and Chicago.
Back in March, before Governor Pritzker's stay-at-home order, I naively thought that things would soon improve and we would be back worshipping together in time for Easter. But, like most everyone else trying to predict the flattening of the viral curve, I was so wrong. Write it off to pure religious zeal, and a lifetime love of Easter celebration. 
Throughout this Holy Week we will continue gathering in our homes and participating in our virtual worship services. However, despite the cloistering restraints imposed by COVID-19, nothing will stop us from singing the mighty power of God that raised Jesus from the dead.
Jesus's Church has always been a singing Church. Pliny, Governor of Bithynia, wrote to Roman Emperor Trajan, in AD 111, telling him of this new sect of Christians. He said of these Christians, "They are in the habit of meeting on a certain fixed day before it is light when they sing in alternate verses a hymn to Christ as God" (William Barclay, The Letters of James and Peter).
The role of music and singing has a rich place in Scripture. From its very beginning, the Christian Church urges Christians to sing psalms, hymns, and spiritual songs to God (Colossians 3:16).
We sing because God is a God of all seasons. In seasons of distress and grief, suffering and trouble, and in times of joy, prayer, and praise alike, we acknowledge God's sufficiency to sustain through all the storms and dreary passages of life.
So, I hope you and your loved ones will sing even in this tough season as we grieve the sick and dying, loss of income, graduations upended, the disruption or wreck of plans and businesses and livelihoods.
Let us sing, just as our Savior did after the Passover Supper with his disciples. They left the upper room and sang a hymn before heading out to Mt. Olives to pray — and for Jesus to face the oily kiss of Judas and death on a Roman cross (Matthew 26:30-54).
Jesus sang a hymn that night knowing that in three days joy would come in the morning. And, just so, we must sing, even if our voices aren't pitch-perfect. We sing the Lord's songs in this strange time because we know in our hearts that joy is coming, and Christ has overcome.
Maybe one clear reminder to take from these unorthodox worship times is that worship has always been about God, for God, to God, and never ever was about us and our predilections for style, customs and tastes.
With that in mind, I have to share this popular video of a precious toddler strapped in his car seat singing his heart out to the Lord. I hope you laugh, but I also hope he will inspire you to sing your praises to our great God. Sing out loud and strong — as if no-one — no-one but God — can hear you.
Praising God with you in the eye of the storm,
Pastor Ray Hylton