This week's eNewsletter feature
was written by Rev. Raymond Hylton,
FPCE Senior Pastor.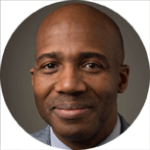 Dear friends,
On Wednesday morning, the world awoke to the news that novel coronavirus COVID-19 was now in the halls of the British Royal Family. Prince Charles, next in line to the throne, tested positive and is now self-isolating for two weeks.
This virus is no respecter of persons or personages, afflicting rich and poor people of all nationalities, races, cultures, languages. That's why it has been so disappointing to read accounts of racism and xenophobic behavior against people of Asian descent.
The virus has now spread to almost every nation, as of today having infected at least 511,000 people whom we know about, and many more we do not.
This invisible enemy is decimating economies, wreaking havoc on health-care systems, burdening hospitals and leaving public spaces devoid of people, while killing people of all ages — mostly the old, but an increasing number of the young.
The virus is shifting our daily work routines from corporate offices to the home. As churches close doors in compliance with government quarantine orders, it is forcing us to reexamine what it means to be the Body of Christ in a time of "social distancing."
For those faithful who consider their place of worship to be their "church home," churches have no choice but to change and explore creative ways to do outreach to their "homebound" congregants, one and all. How strange to consider how, under more normal circumstances, these same innovative changes might well have caused ugly, divisive church family fights.
Many are asking, Why is this happening? Where is God? Can anything good come from the COVID-19 pandemic? There are no easy answers to these questions.
Maybe, for the faithful, the real question isn't why this is happening, or why a good God would allow this to happen.  Instead, let's ask what we can do as a result. Or ask, How do we carry on our faith in the face of this challenging time?
Here are a few ways to respond:
Remember, God is greater than any pandemic. God uses humanity's darkest moments to magnify his mercy and love through the Church.
Instead of asking why this is happening, ask, How I can serve those around me? To whom can I show God's love? Of course, practice safe social distancing — absolutely — but, within that stricture, what can we do to help our neighbors?
Before COVID-19, we had busyness as an excuse for not having enough time to pray, worship, or pursue a deeper life with God. Use this newly recaptured time now to seek a more in-depth experience of prayer for the needs of our community and world at large.
Pray that, when this crisis ends, instead of going back to "business as usual," we will enter a new reality, with new practices, habits, and ways of being the Church.
Finally, I am very grateful for the creativity of our staff, our leaders, our Deacons and Session. We are working hard to keep everyone cared-for and connected.
Instead of lamenting how bad these times are, use these challenges to grow your faith and love for God and neighbor. This is a time to draw near to God.
In Christ,
Pastor Ray Hylton.
P.S. On Tuesday night, in accord with Gov. Pritzker's order, Session unanimously agreed to extend the closure of our Church until the end of April. But have no fear!
The "Hallelujahs" will be pouring out melodiously through every speaker and ear-pod from our online Easter week services. Be sure to be tuning in to streamed worship services on our home site www.firstpresevanston.org at 10 AM every Sunday in the coming month. 
Palm Sunday is coming up on April 5th: Hosanna! Blessed are all those who come in the name of the Lord!