This week's eNewsletter feature
was written by Rev. Raymond Hylton,
FPCE Senior Pastor.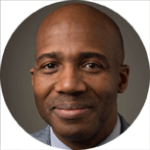 Dear friends,
When I converted to Christianity, at the age of 17, our church in Jamaica discipled a group of us in how to share the Gospel with friends and strangers.
On Monday nights, our group watched films of Dr. D. James Kennedy of the Coral Ridge Presbyterian Church teaching leaders his program, Evangelism Explosion. I thought it was the most profound thing I had experienced up to that point. Armed with programs like that, we trained on Mondays, and, by Friday and Saturday, we went out into the neighborhood in groups of twos sharing Kennedy's method for reaching people.
Many people came to Christ and joined our Glad Tidings Open Bible Church through our outreach methods. The church experienced significant growth. Years later, our church was running three services on Sundays.
Three years ago, I tried to organize and train some of our First Pres members to use Evangelism Explosion as one of our outreach methods. My efforts were not successful — for a few reasons:
Christians today are uber busy and lack exercise of the "faith muscle" that builds confidence to share Christ.

Evanston is very diverse culturally, racially, and spiritually. Hence many are suspicious of religious Truth claims.

The vocabulary of Christianity, to many, is a foreign language that lacks resonance.

A hundred years ago, most people seriously considered where they would spend eternity. Today, most people agonize about what to do with the weekend.
The result of these manifest cultural changes is that it often feels as if Christians who share their faith, and the people with whom they are sharing, live in whole different worlds. Religious conversations today can often feel like two ships slipping past each other in the night.
Churches retreat from the Great Commission (see Matthew 28:16-20), relying instead on "attractional" methods — the "if we build it (music, buildings, programs) they will come" approach — instead of reaching and building solid relationships with others. Unfortunately, the attractional method most often proves not to work.
Annually, congregational statistics in the PCUSA show more decline than growth, even as the American population continues expanding.
Despite the ever-widening gap between our culture and the Church, the mission of Jesus never changed: Christians are sent by God to share God's love, especially with those yet to believe.
Part of my calling as a pastor is to equip our church to fulfill God's mission in a hard, fast, cynical world. I no longer rely on the Kennedy method of evangelism, posing diagnostic questions that no-one's asking anymore. Instead, here at First Pres, I want to equip you to learn the ancient and powerful practice of hospitality — building trust, and on that common ground thus earning the right to share Christ.
I also want to encourage Christians to reflect on Paul's words from Romans 10:12-15:
For there is no distinction between Jew and Greek; the same Lord is Lord of all and is generous to all who call on him. For, "Everyone who calls on the name of the Lord shall be saved."
But how are they to call on one in whom they have not believed? And how are they to believe in one of whom they have never heard? And how are they to hear without someone to proclaim him? And how are they to proclaim him unless they are sent?
 God saves, not us. God sends us, not angels. We each have a part in reaching Evanston for Christ. If this resonates with you, let me know if you would like to be equipped to build relationships with others.
In Christ,
Pastor Ray Hylton
P.S. Daylight Saving Time begins this coming Sunday, March 8. Remember to move your clock ahead one hour!