Don't Miss Our All-Church Retreat!
This week's eNewsletter feature
was written by Rev. Henry Coates,
FPCE Associate Pastor.
Dear friends,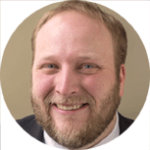 You've probably heard this one before, but… the church is changing.  
Some people would say it's declining or even dying. It seems like every week we hear stories about the disappearance of organized religion, churches that are struggling, congregations closing their doors, and people who claim to be "spiritual but not religious." 
Dr. Andrew Root is a writer, professor, and a theologian who has spent the past few years asking this core question:  What's happening to the church? 
Is it really shrinking?  Or dying?  And how did we get to this point? And where do we go from here?
Root is the Carrie Olson Baalson Professor of Youth and Family Ministry at Luther Seminary, USA. A former Young Life staff worker, he has served in churches and social service agencies as a youth outreach associate and a gang prevention counselor. He writes and researches in areas of theology and youth ministry.  His most recent books are The Grace of Dogs (Convergent, 2017), Faith Formation in a Secular Age (Baker, 2017), Exploding Stars, Dead Dinosaurs, and Zombies: Youth Ministry in the Age of Science (Fortress Press, 2018) and The Pastor in a Secular Age: Ministry to People Who No Longer Need a God (Baker, 2019).
On March 13-14, First Pres will be hosting Dr. Root to lead us in an all-church retreat on the theme Anxious Church—Being Disciples in a Changing World. Early in our Lenten season, this is an opportunity for all of us to pause from other responsibilities, to come together as a church family, and engage with our call to witness to the Christian faith in our changing, increasingly secular world.
The cost of the weekend retreat is $15 per adult (which includes three meals), and you can register here: https://firstpresevanston.org/2020retreat/.
Things kick off at 6pm on Friday, March 13th, with dinner in our church's dining room. Breakfast will be served at 8am on Saturday, with programs beginning at approximately 8:45. Lunch will be served before afternoon activities, and the retreat will conclude around 2 o'clock on Saturday. Childcare is free with reservations, and youth and college students can attend at no cost. 
Our Discipleship committee prays that all will attend. It will be a time of reflection, discussion, and worship as we together engage with Dr. Root as he leads us through the weekend.
Dr. Root co-hosts the "New Time Religion Podcast," which I highly encourage you all to listen to in preparation for the retreat — you can check it out at:  https://www.newtimereligion.org/ or https://podcasts.apple.com/us/podcast/new-time-religion-with-andrew-root/id1462822741.
Don't hesitate to reach out to me with any questions. Hope to see you there!
-Henry